Contract for difference (CFD) trading is a type of derivative trading, in which traders speculate on the prices of international financial instruments such as commodities, indices, shares, and currencies.
CFDs allow you to trade on margins, going short if you predict a fall in price or going long if you predict a rise in price. If you live in the UK, you don't have to pay stamp duty on your CFD trading profits, which is an added benefit for you.
Simple Guide to CFD Trading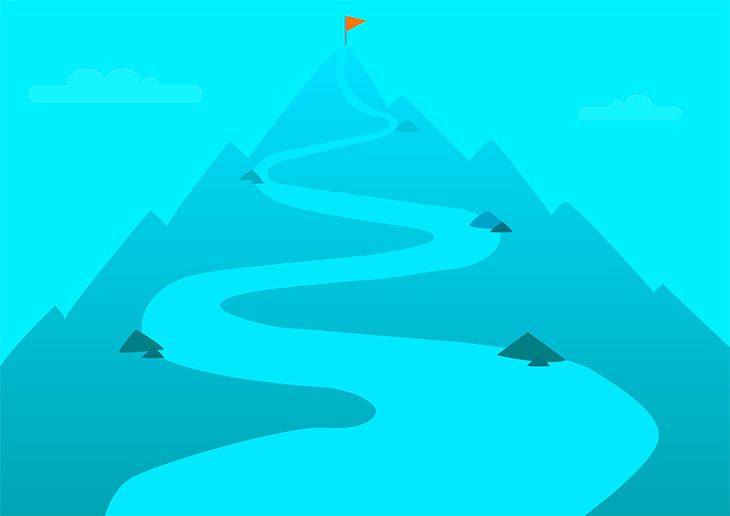 In CFD trading, the trader does not get ownership of the underlying asset. The transaction is based only on the price movement of the asset, not the asset itself. When you trade CFDs, you agree that you will exchange the difference in an asset price from the point of trade entry to the point of exit.
Going Short or Going Long
In CFD trading, you can speculate on price movements in any direction. So you can open CFD positions in which you will profit if the price of the asset falls. When you do this, you are going short or selling. The opposite of going short is going long or buying.
For example, when a trader predicts that the share value of Apple is going to decrease, he/she can go short on Apple share CFDs. If the share value indeed drops as predicted, the trader will make a profit. If, on the contrary, the share value goes up, the trader will lose.
Leverage
CFD trading is a leveraged product. This means that traders don't have to pay the full amount while opening a position. They just have to pay a small percentage of it. However, profits and losses are calculated on the full amount. If you win, you will win a big amount. If you lose, your loss may exceed your deposit amount. You should, therefore, adjust the leverage ratio in such a way that you are trading well within your limits.
Margins
When you are using leverage, you are also trading on margin, because you are betting just a fraction of the actual amount. CFD trading is associated with two varieties of margin—deposit margin and maintenance margin. Deposit margins are required to open positions and maintenance margins are required if your trade is coming close to losing funds. If you don't have sufficient funds in your account to cover the loss, your provider will request you to load your account.
Spread and Commission
Providers always quote the buy price and the sell price in CFD trading. While sell prices will be lower than the actual market price, the buy prices will be slightly higher. The difference between the buy price and the sell price is the spread. Usually, the spread covers the costs of opening a CFD trade.
No expiry
CFDs do not have any expiry times. Traders can close their positions by trading in the opposite direction. For example, they close buy positions by simply making a sale. CFD positions kept open overnight will be charged overnight fees.
CFD Trading Risks – Understanding and Managing Them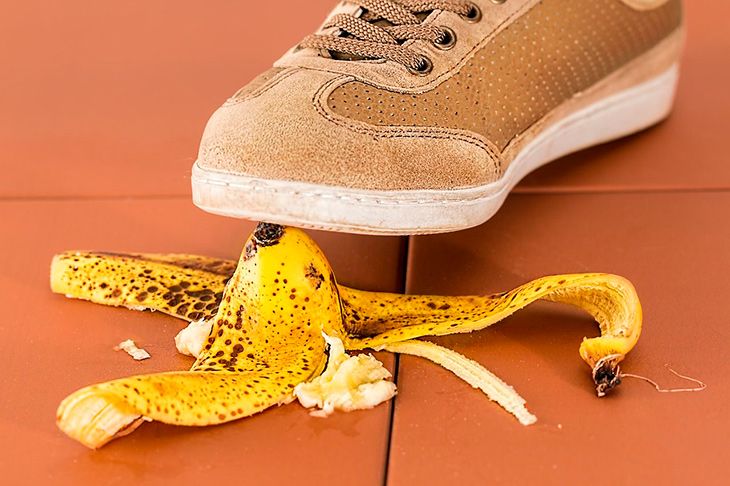 The following are the various risks associated with CFD trading:
Counterparty Risks – Counterparties are companies that provide assets in CFD transactions. In CFD trading, only the contracts provided by the Forex broker are traded. The trader thus gets exposed to the CFD broker's counterparties. If these counterparties fail to meet their obligations, the value of the underlying asset loses relevance.
Market Risks – Even if you make an educated guess, the price can move against your favor. In case of CFD trading, even a small change in the financial markets can have a huge impact on profits and losses. To cover losses, brokers may make second margin calls. And if you cannot meet these calls, you may either have to sell at a loss or the broker will close your position.
Client Fund Risk – When you open a position, your money is pooled with other clients' funds. In case the broker makes margin calls that the other clients fail to meet, the broker may draw from the pooled account. This will have a major impact on your losses and profits.
Liquidity Risks – Your CFD may become illiquid if sufficient trades are not made for the underlying asset. In such cases, there may be additional margin calls or the position will be closed at a poor price.
It is important that you understand all these risks before trading CFDs. You have to understand that over 70% of CFD traders end up losing their money for the above-mentioned reasons.
There are a number of risk management techniques that you can use to reduce the risks:
Use stop loss orders to automatically close your contract and either lock in your profits or prevent further loss.
Before you trade CFDs, research the market well.
Trade CFDs on assets you are comfortable with and understand well.
Avoid risking huge amounts.
Practice on a free demo account.
Sign up only at licensed and authorized CFD brokers. Here is a list of regulators:
– Australian Securities and Investments Commission (ASIC)
– Belize – International Financial Services Commission
– Investment Industry Regulatory Organization of Canada (IIROC)
– Cyprus Securities and Exchange Commission (CYSEC)
Best Broker for CFD Trading in South Africa
If you would like to trade CFDs on a wide range of markets, we recommend the following online Forex brokers for you:
XM Forex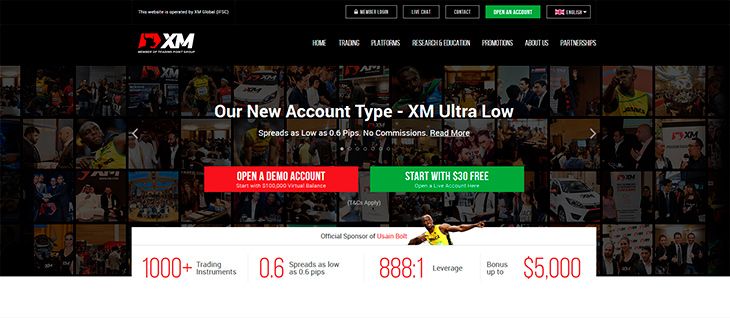 XM Forex is known for its fast and direct order execution. Client support is available 24/7 and includes personal account managers. Traders can trade on desktops, smartphones, and tablets.
Launched in 2009, XM.com is home to 2,500,000 investors from all over the globe. Licensed in three jurisdictions, the online Forex broker has clients from over 196 countries. It has in its employment people who speak in over 30 languages.
Forex Time (FXTM)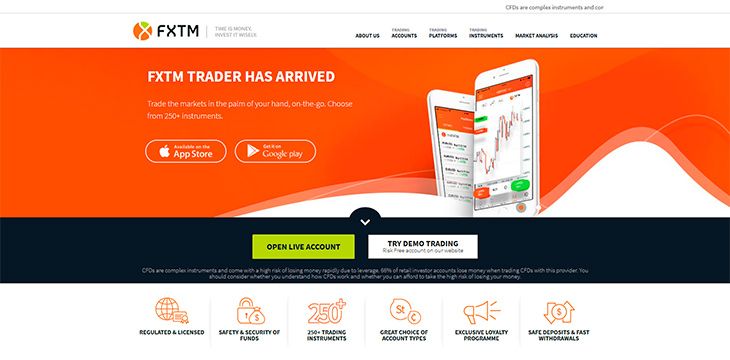 Forex Time (FXTM) offers a wide range of trading instruments, top-rated trading conditions, 100% safety & security, and regular contests and promotions. FXTM is an online platform on which customers can not only learn how to trade, but also trade in an excellent trading environment and invest funds through FXTM INVEST.
IQ Option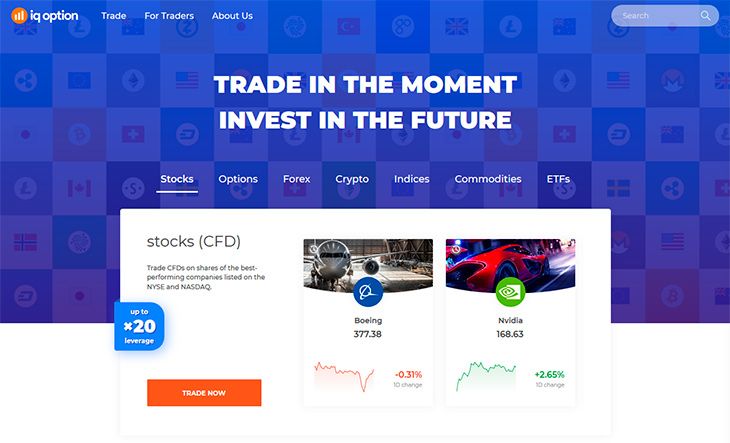 IQoption is home to a huge and active community of 38,470,971 customers. It has a presence in 178 countries. Every month, its registered traders withdraw up to $10,800,000 of profits from their accounts.
The following are the benefits of IQ Option:
24/7 customer support
Demo account
Supports multiple languages
Fast withdrawals
24/7 VIP managers
A-Markets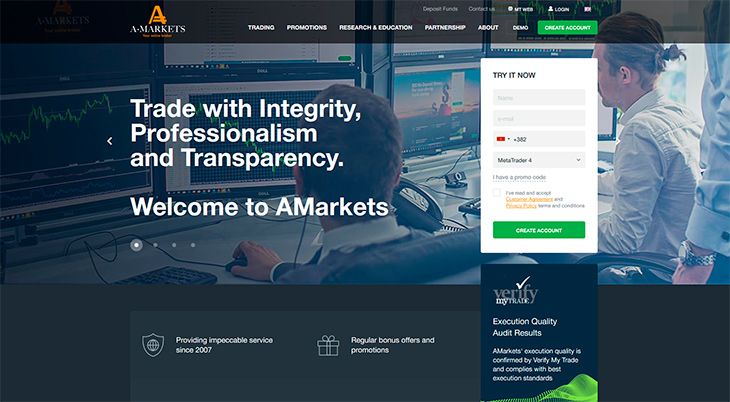 AMarkets has the following selling points:
Trade on desktops or on the move on the MT5 platform
Islamic accounts compliant with Sharia laws
25% on first deposit
0% commission on deposits and withdrawals
A-Markets was launched in 2007. It offers regular bonuses and promotions and a leverage ratio of up to 1:1000. Clients can open accounts in USD and EUR. The spreads start from 0.2 pips and the order execution starts from 0.03 sec.
A-Markets offers trading on 50 Forex pairs, 7 metals, 27 indices, 147 CFDs, 3 bonds, and 11 commodities.
Pepperstone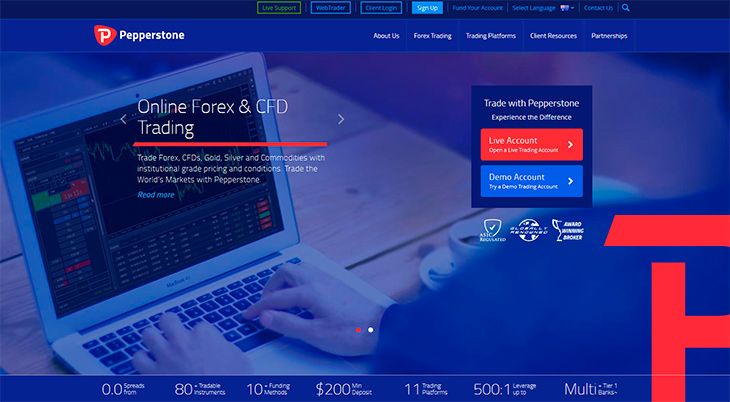 Pepperstone is a multiple award-winning online broker, which rewards traders with Qantas Points whenever they trade a Forex lot.
The CFD & FX broker is popular for the following benefits:
Spreads start from 0.0 pips
10+ payment methods
100 trading platforms
10+ payment methods
Leverage of up to 1:500
$200 minimum deposit
CFD Trading FAQs
Q1: I want to trade CFDs. How do I get started?
A: First, you should understand the risks associated with CFD trading. There are a number of CFD providers and a wide range of trading options to choose from. If you are a beginner, you should get started on a demo account, on which you can trade CFDs using virtual funds. Once you are confident about CFD trading, you can start trading on a live account.
Q2: Is CFD trading legal?
A: Yes, CFD trading is legal in several countries across the globe, including UK, Australia, Canada, European Union, South Africa, Japan, Russia, Switzerland, New Zealand, and other countries.
Q3: What are the charges involved with CFD trading?
A: You can trade CFDs on a variety of instruments without paying any commission; you just have to pay the spread. In case of CFDs on equities, you will have to pay commission. You may also have to pay overnight financing charges.
Q4: What are the risks associated with CFD trading?
A: When you are trading CFDs, your profits and losses could exceed your initial deposit amount. If you lose, you could lose quite a lot of money. So you should understand the risks involved thoroughly and risk only as much money as you can afford to lose.
Q5: Are guaranteed stop losses available on CFDs?
A: Yes. Stop loss orders close positions when the price has reached a certain point and the market no longer behaves in your favor.
Q6: Are my CFD profits taxed?
A: You will have to pay the usual tax on your profits in CFD trading. However, you don't have to pay any stamp duty if you live in the UK.
Conclusion – Should You Trade CFDs?
There is no reason for you to avoid CFD trading. The associated risks make it all the more exciting. But you should exercise caution and manage your risks well to avoid losing all the funds in your account. We suggest getting started on a demo account, learning everything you can about CFD trading, and practicing a lot before actually beginning to trade CFDs on a live account.