Summary
The XM Forex is a global financial marketplace where currencies are exchanged to conduct business or Forex trading. It was founded in 2009 by experts in the financial industry as part of the Trading Point of Financial Instrument Ltd. Now, XM is a leading international investment firm and highly recognized foreign exchange broker.
Pros
• Regulated and licensed broker.
• It is an expert in financial industry.
• Highly competitive compared to other Forex brokers.
• Offers flexible trading conditions.
• Offers bonuses and promotions.
• Customer-friendly website and diversified mobile applications.
• Excellent customer support.
Cons
• More currency pairs
The economy of African countries, especially South Africa, Nigeria and Kenya, is rapidly growing. This condition attracts financial service providers to set foot on the demand for global trading.
XM applied for registration to South Africa local regulator, Financial Service Board, on August 2016. Since then, XM has been appealing to South African Forex traders due to its customer-focused features and services. XM has fostered a transparent, flexible, and reliable trading platform, making it the top financial broker in South Africa.
XM is a regulated and renowned broker
Offers flexible trading account with very low spreads
Provides option about trading platforms, MT4 and MT5 accessible through various devices such as PC, Mac, Phone, and Tablet (Android and iOS)
Client's protection programs such as the Negative Balance Protection, Stop Calls, Limit Calls, and Margin Calls
A wide range of financial instruments to trade
Easy and quick deposits and withdrawals
XM trading platform is designed to offer exceptional service to its clients regardless of experience and capability to trade. In just ten years, its growth is proving its competence to dominate the global market.
Is XM Forex Reliable?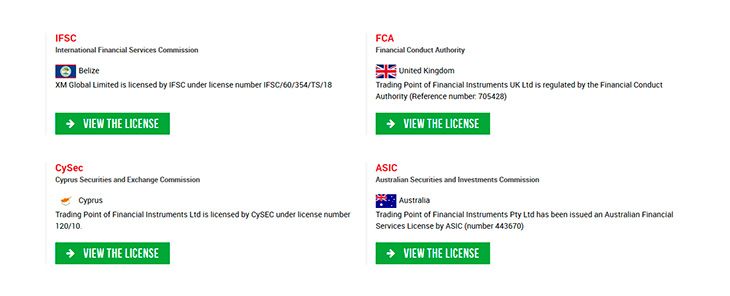 The holding of XM is in Cyprus, a member of Eurozone. The XM platform is a licensed broker governed by strong regulation measures making it safe in terms of customer's data and financial security. Its operation authorized and registered by CySEC (Cyprus), Financial Conduct Authority or FCA (UK), BaFin (Germany), CNMV (Spain), an ASIC (Australia).
The word "trustworthy" is among the defining word for XM forex. Over the years, XM clients get handled with a fair trading condition, strict no re-quotes and no rejection policy, and negative balance protection.
XM trading platform offers extensive customer support through its website such as the 24/5 customer service on over 30 languages support. This scheme provides a customer-friendly service to accommodate inquiries from different countries and diversified clients.
XM Forex has garnered multiple awards and recognition in the investment and finance world.
XM Forex Pros and Cons
The XM Forex has several benefits offered to its clients:
The XM forex is a regulated and licensed broker by over ten different Regulatory Authorities.
It is an expert in financial industry achieving over 500,000 accounts in just ten years.
Highly competitive compared to other Forex brokers with the leverage of 888:1.
Offers flexible trading conditions to allow both beginner and veteran traders.
Offers bonuses and promotions to benefit both newly registered and regular clients.
Trading is possible through a customer-friendly website and diversified mobile applications for a better trading experience.
Has excellent customer support programs to accommodate diversified clients all over the world.
There is very little negative feedback about XM forex. Based on customer comments, the XM platform needs improvement in the following aspects:
XM Trading Account Types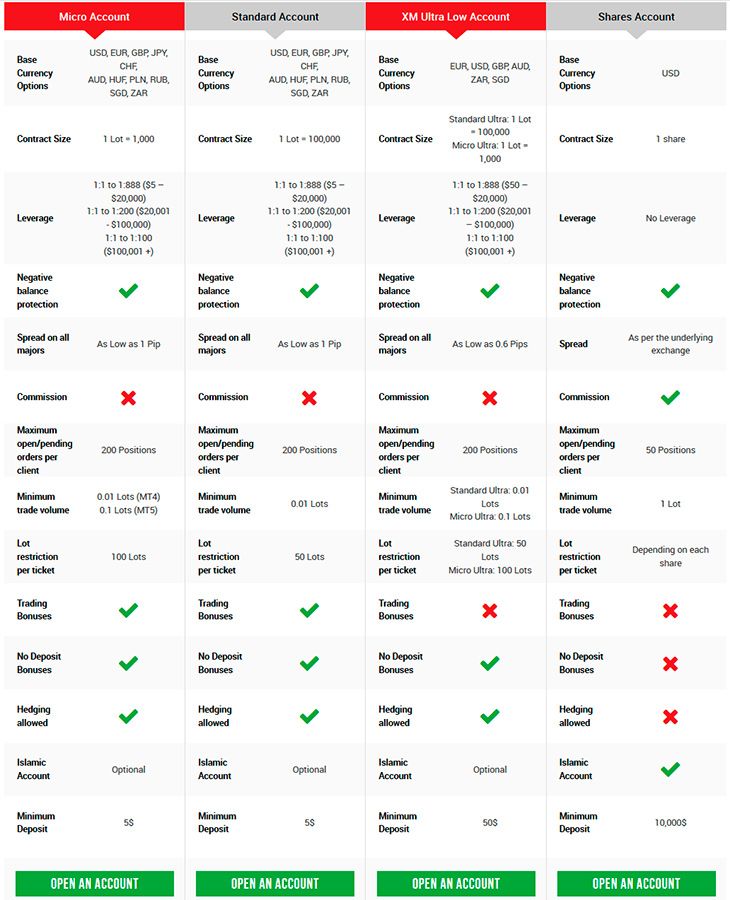 A forex account is needed to hold and trade foreign currencies. The XM Forex offers three types of trading accounts – the XM zero, standard, and micro. An XM client is free to open any of these accounts, and allowed to have more than one account to maximize its trading experience.
The XM Zero Account
The XM zero trading account is offered free to clients who want to open including those with Micro or Standard accounts. It features brokerage service cost as low as zero with trading options to more than 56 currency pairs, including gold, silver, commodities, and stocks/shares. It offers maximum leverage of up to 500:1 in EUR, JPY, and USD as account currency options.
The XM platform adopts trading software Meta Trader 4 (MT4) and Meta Trader 5 (MT5) for traders on zero accounts allowing one-click trading. Also, clients on zero accounts are still protected by the XM NBP (Negative Balance Protection) to ensure client's loss is not more than the deposit amount, 50% Margin call and 20% Stop Out to secure a not less than 20% margin.
A trader at zero accounts is entitled to a commission of $5 per 1 lot with a lot size of up to 100,000 units. However, a member of this account has no trading bonuses.
The XM Micro Account
An XM micro account is the recommended option for traders who opt for significant profits and prefer small trading volumes.
With the micro account, trading can start at a minimum spread of 1 pip (percentage in point) using 11 currency account options. Compared to zero accounts, it has maximum leverage of 888:1. It offers multiple trading options including stocks/shares, forex, commodities, equity, gold, silver, energies, and cryptocurrencies.
XM micro account is entitled to features such as hedging, trading bonuses, NBP (Negative Balance Protection), and 50% Margin Call and 20% Stop Call. Trading software MT4 and MT5 are also available for automated trading anytime and anywhere.
The XM Standard Account
The XM trading platform allows traders using the Standard account access to multiple trading options and numerous currency options similar to the micro account. It has the leverage of up to 888:1 and minimum trading spread of 1 pip. It also includes protection and financial instruments similar to micro account such as MT4 and MT5 trading platform, hedging, trading bonuses, NBP and more.
The XM Forex standard account differs from a micro account in terms of trading volume. At one lot size, the micro account has 1,000 units while standard (and zero accounts) has 100,000 units.
How to Open XM Forex Account and Start Trading?
It takes only 3 minutes to get started on XM. Here are the steps to follow:
Open an Account
Go to XM's website (click the link on this page)
Click the "Open an Account" tab at the upper right corner to direct to the real account registration
Complete the personal details using alphabet characters only.
Complete trading account details by choosing your preferred platform and account type in the dropdown.
Click the "Proceed to Step 2".
Finalize your trading account details by confirming your citizenship, account base currency and bonus, and leverage.
Provide your investor information using the dropdown.
Create an account password and tick the box if you want to receive news and updates from XM.
Finish it by clicking the Open Account icon at the bottom of the page.
Submit 2 types of Identification Documents:
Identification document that includes your complete name, issue and expiry date of the ID, address, year of birth, tax identification number, and signature.
Document with proof of speech such as utility bill, and bank account statement with a date within six months.
The scanned copy of these documents will get submitted through email or the Client Portal.
Deposit cash to your account by logging in to your XM's Client Portal.
Install MT4 or MT5 trading platform to your computer, tablet, or cell phone. Free installation software is available in XM Official Website.
Claim Your Bonus Now!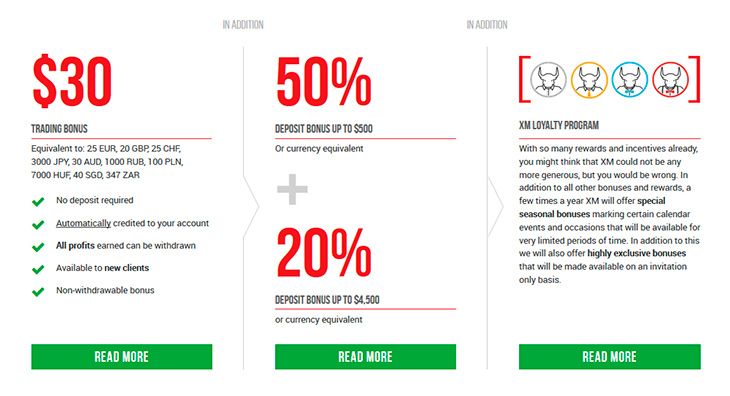 All new clients on XM broker are entitled to no deposit bonus. This bonus is available only once, and the claimant is given just 30-days to get the free 30 USD. There are restrictions applied to promotions and bonus rights. New XM member under 18 years old are considered minors and are not allowed to trade. Also, a member with a record of violations of the broker rules and regulations are not allowed to trade and claim the bonus. Only a new member with a tradable account is entitled to a free 30 USD.
The $30 bonus offered by the XM is very easy to avail.
Open the XM URL (click the link on this page)
Click the Promotions to go to the promotional sections and choose the Trading Bonus. Then, click the Claim Your Bonus.
An email will confirm the receipt of the 30 USD XM bonus and the trading account ID.
Activate the bonus by completing the verification with SMS and voice.
The process of getting your bonus will take 24 hours, but the cash will be available to the account within an hour. The money can only get used for trading purposes, and withdrawal can only apply to the profits you earn after trading.
How to Make Deposit and Withdrawal?
Deposit Methods
There are several methods accepted by XM in processing fund deposits on accounts.
Credit Cards
XM is accepting Visa (credit/debit), Visa Electron (credit/debit), MasterCard, Maestro, and UnionPay in multiple currencies like USD, EUR, GBP, CHF, AUD, PLN, and HUF. There is a required 5 USD (equivalent) minimum balance with no service charge. The processing of deposit took effect almost instantly.
Electronic Payment
XM is accepting payment through Neteller, Skrill, Sofort Banking, CashU, Przelewy 24, and Bitcoin. There is a minimum requirement of 5 USD but no service charge during the transaction. However, only the Neteller and the Skrill allow currencies listed on credit cards. The Sofort banking accepts just EUR and GBP, CashU is USD, Przelewy 24 is PLN, and Bitcoin recognizes only USD, EUR, and JPY.
Bank Wire Transfer
Bank transfer is available on selected currencies like USD, EUR, GBP, CHF, AUD, PLN, and HUF at 200 USD minimum amount. Bank transfer needs 2 to 5 business days to process the deposit to the account.
The XM MT4 or MT5 platforms offer easy and fast processing of deposit.
Login to XM's Member's, and click Deposit on the upper right corner.
Follow the instructions base on what payment method you will use.
There are essential things that must be observed to deposit to XM account:
No third parties in storing to XM account
Micro or Standard accounts have no minimum deposit
XM Zero account is required to deposit at least 200 USD
Withdrawal Methods
Similar to XM deposit, the withdrawal also allows using multiple methods.
Credit Cards
XM is accepting Visa (credit/debit), Visa Electron (credit/debit), MasterCard, Maestro, and UnionPay in multiple currencies like USD, EUR, GBP, CHF, AUD, PLN, and HUF. The processing of request takes effect within 24 hours.
Electronic Payment
Withdraw via Neteller, and Skrill (Moneybookers) are acceptable in currencies USD, EUR, GBP, CHF, AUD, PLN, and HUF. Also, Bitcoin is considered in currencies like USD, EUR, and JPY only. Like in credit card, the request takes effect within 24 hours.
Bank Wire Transfer
An XM Forex member can withdraw via bank transfer in currencies like USD, EUR, GBP, CHF, AUD, PLN, and HUF. Similar to deposits, bank wire withdrawal needs 2 to 5 business days.
There are important things to consider in depositing to XM account:
Only verified accounts with valid ID and supporting document (proof of address) can request fund withdrawal
XM follows the Withdrawal Priority Procedure of credit card, bitcoin, E-wallet (electronic payment), and bank transfer.
XM Trading Conditions
XM Spread Conditions
The XM conditions on spread are as follows:
Trading at the tightest range of 0.6 on all significant Forex trading.
Offers over 100 financial instruments or monetary contracts.
Trading transparency with no hidden charges.
Offers variable spread at possible tightest spreads irrespective of account types and trading volumes.
Fractional pip pricing of up to 5th digit to get the best price from liquidity providers.
Best execution policy with 99.35% of trades performed in less than 1 second, real-time market execution, no re-quotes policy, and 100% execution of orders.
XM Margin and Leverage Conditions
The margin is defined as the value of the security to ensure sufficient funds during trading while Leverage refers to the capability to trade larger than the existing amount in the trading account.
XM offers flexibility in trading in terms of leverage of up to 888:1
Extends Negative Balance Protection (NBP) to secure client will not lose more than the deposit amount.
Implements 50% Stop-Out level to all trading accounts.
XM flexibility in leverage range allows the client to have a preference in terms of risk level.
Provides clients with real-time risk assessment by monitoring margin and send margin call warning as soon as account equity is less than 50% of the margin.
XM Forex Trading Hours
XM is giving its clients more financial opportunities through 24 hours online and phone trading.
Trading hours from Sunday 22:05 GMT to Friday 21:05 GMT.
XM offers 24-hour customer support through email or chat.
XM Trading Platforms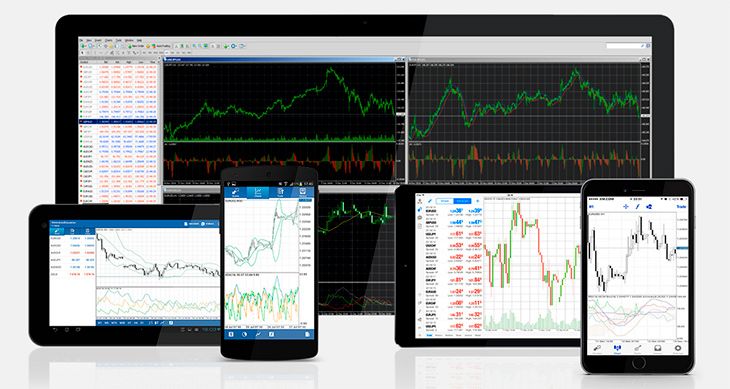 XM Forex pioneered the use of a variety of electronic trading platforms. The MetaTrader 4 and MetaTrader 5 platforms of XM facilitate online trading and enhance the trading quality. Both apply the strict policies of XM on no re-quotes and no rejections and offer a leverage range from 1:1 to 888:1.
The trading platforms are available in different devices allowing maximum access to trading anytime and anywhere.
MetaTrader 4 for PC / Mac
MetaTrader 5 for PC / Mac
MT4 for iPhone
MT4 for Android
Free Forex Signals
Another benefit of a live account holder in XM is free to access to trading signals such as Stop Levels and Take Profit. The trading signals are sent twice per day covering six currency exchange pairs, gold, oil, Dow Jones, and N225.
What Trading Instruments are Available?

XM trading offers a wide range of financial instruments for its clients to trade.
Forex Trading
The XM currency exchange or forex trading is a global and most liquid marketplace that offers over 55 currency pairs and trading options via online or broker.
Stock CFD's (Contract for Difference)
CFD stocks are not actual shares that are subject to voting but derivative trading. The XM platforms allow traders to have a vital view on market trends and moves, and global economic status.
Commodities
XM trading offers a commodity market for global retail traders. The platforms allow traders to have a view on demand and price trends, and global economic status. It provides low deposit and no fees during trading.
Equity Indices
Equity indices represent a measure of the value of the particular stock market. The XM trading caters major equity indices such as S&P 500, Dow Jones, Nasdaq, FTSE100, Nikkei225, DAX, CAC40, Euro Stoxx 50, and ASX200. Similar to other, XM platforms offers an instant view on market trends and moves, and global economic status. It is suitable for long and short term trading, and cost-effective with no extra fee.
Precious Metals
Gold and other precious metals are traded on contract-based and at high volume due to its intrinsic value irrespective of economic circumstance. Other than Forex, trading gold and precious metals is an attractive investment with well liquid markets and leverage of up to 888:1.
Energies
Energies are the most unstable in terms of price. The energy price is easily affected by political and economic factors and weather conditions. In XM trading, a margin of as low as 5 USD is allowed with no extra fee.
Cryptocurrencies
Similar to Forex, this trading is also considered an attractive investment that involves buying and selling coins. These coins can only be acquired using cryptocurrency like Bitcoin or Ethereum. Bitcoin is available on XM MT5 platform.
What Makes XM Forex Different from Other Brokers?
The competition in the financial industry is always in a very close fight. XM invested so much to leverage its platform to be on the top. However, other financial brokers have competencies that can outdo XM performance.
Many traders will choose XM for its flexibility, competitive pricing, and diversified customer support program. These features can be distinctive factors that make XM different from other brokers.
Frequently Asked Questions
How to open an XM demo account?
Anyone can create a demo account to simulate trading. To register, click Open a Demo Account icon in the homepage of XM site. Then, fill out valid information and submit. The XM platform can then be downloaded and install.
Until when an XM demo account can be used?
There's no expiration to the XM demo account. However, inactive demo accounts for more than 90 days will automatically close.
How to close XM MT4 and MT5 live trading accounts for good?
An XM trading account can be permanently close through the Close Account section of Client's portal. It can only be closed if there are no pending transactions like open trades, withdrawals, or account balance. Upon confirmation, XM will close the account including other trading accounts in case of multiple accounts.
Is it allowed to transfer funds from my trading account to another person's trading account?
No. Transfer of funds between different accounts name and third parties is strictly prohibited.
Is it possible to use MT4 account to access MT5?
No. XM MT4 and MT5 trading accounts are different. It is necessary to have an MT5 account and application on your PC or phone to access it.
Conclusion
Over the years, XM Forex has been faithful to its mission to remain on track to the global market demands and empowers members through continuous research, educations, and tools to be competitive in the global trading market.
All the facts and features of XM define its commitment to high-quality standards of service. The design of the platform is in customer-focused approached and integrity base on the level of the client's protection program and policy implementations.
It is worth starting on XM Forex today!
XM Forex Trading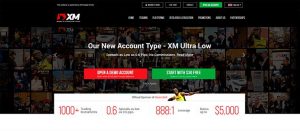 The economy of African countries, especially South Africa, Nigeria and Kenya, is rapidly growing. This condition attracts financial service providers to se