Summary
Developed in 2013 by IQ Option LLC, IQ Option is a custom-built online trading platform that enables customers to trade a variety of financial assets and instruments such as options, stocks, Forex and Cryptocurrencies. The platform is one of the online trading sites with rapid growth claiming to have a global count of 100+ million active account holders.
Pros
• Wide range of assets are covered
• Availability of purchasing via credit card
• State-of-the-art platform
• Margin trading available
Cons
• Limited Support
• Limited Jurisdictions due to local laws in specific countries.
• Users only trade cryptocurrencies but don't own them.
This material is not intended for viewers in EEA countries. Binary Options are not promoted or sold to EEA retail traders.
IQ Option is highly functional and innovative from its construction design to the user experience and education. It avoids marketing gimmicks to give one the experience of a legitimate trading platform.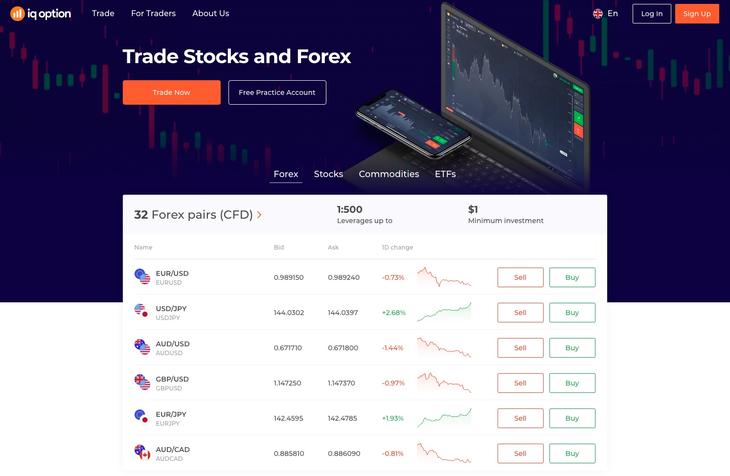 The company has its headquarters at Hinds Building, Kingstown, St. Vincent and Grenadines.
The platform has a low minimum deposit of $10 and provides internal contests to improve trades and fosters healthy competition.
IQ Option Facts & Figures for 2022

Here are some interesting IQ Option facts & figures we found on the online broker's official website:
The online broker's base of active users is constantly on the rise. In 2018, IQ Option had 41,463,400 registered users.
The number of transactions per day increased by over 650 percent between 2014 and 2018.
The trading volume increased by 1700 percent within the same time frame.
Traders withdrew 3.6x more in 2018 than in 2016.
The online broker pays out $24,969,200 in profits to traders every month.
The average time to process payout requests at IQ Option is one day.
IQ Option has a team of 91 customer support agents.
IQ Option has users from 150 countries worldwide.
The online broker processes orders in just 0.7 seconds.
More info about IQ Option trading platform.
IQ Option Safety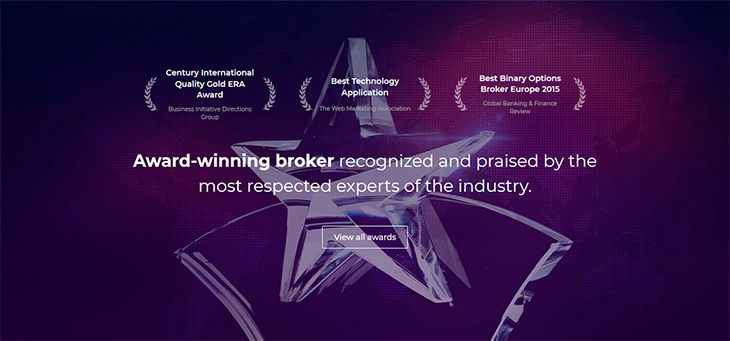 The question on safety is one of the most critical issues for every customer trading on any platform. Both data safety and funds safety are critical in ensuring the security of the trading platform.
Is IQ Option Reliable?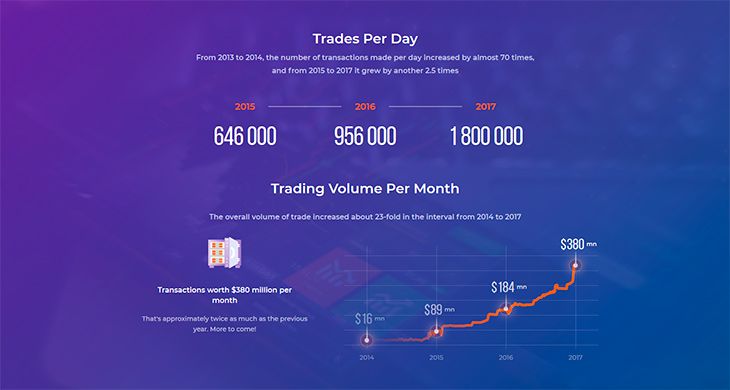 As is the case with a majority of exchange platforms nowadays, the platform is entirely Secure-Socket-Layer encrypted. What does this mean? All transactional information relayed to and from the platform is encrypted with Advance Encryption Standards 256 Bit technology.
What is the importance of this? Well, simply put, Secure-Socket-Layer certificates function to limit the success of hacker attacks (phishing and man in the middle attacks) and offer protection to the traders.
Point to note: it is advisable to ensure that a padlock (green) is visible in the address bar at all times when trading just to be sure that the visited site is not a phishing one.
Assets Covered
IQ Option is a discursive trading platform. It provides its users with a myriad of alternatives. It allows the trading of CFDs, a variety of digital options, exchange-traded-funds, and forex.

CFDs: the company allows for the trading of Contracts for Difference on stocks from different companies. Some of these companies are successful enterprises on the NASDAQ and New York Stock Exchange.
Cryptocurrencies: the company allows users to trade CFD of the top cryptocurrencies including Ethereum and Bitcoin.
Exchange-Traded-Funds: trading of ETFs is new in the market and it works by monitoring indices, groups of assets, and commodities. Their trading is similar to that of common stocks, allowing traders to pick from different Exchange Traded Funds.
Forex: FX trading is very popular. As a result, the company (IQ Option) grants access to currency trading pairs. Consequently, allowing for ease with which users trade their preferred currencies.
Options: this involves speculation of the price directions of a given number of assets including currencies, and stocks.
Getting Started:  Sign Up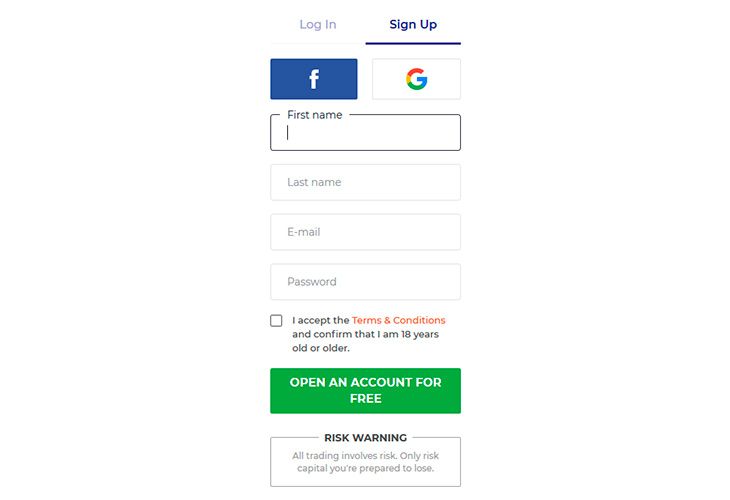 There are three ways to get started. You can sign up with your Facebook or Google account, or by creating an IQ Option account with your email address. After completing the signup form and keying in a password, you are ready to proceed.
On completion of the signup process, you can use your practice account or fund your real account before engaging in the live trade. Usually, one gets a notification on the successful creation of both the live and demo accounts.
The company has created its own branded platform which makes navigation of the site a smooth experience. IQ Option platform is generally well designed. It has an intuitive approach and quite easy to use with simplified access to the various tools and features.
IQ Option free practice account also allows for trading of underlying assets. Consequently, there is a wide range of options relating to trade types and traders can quickly make switches between their assets of preference.
IQ Option Login & User Interface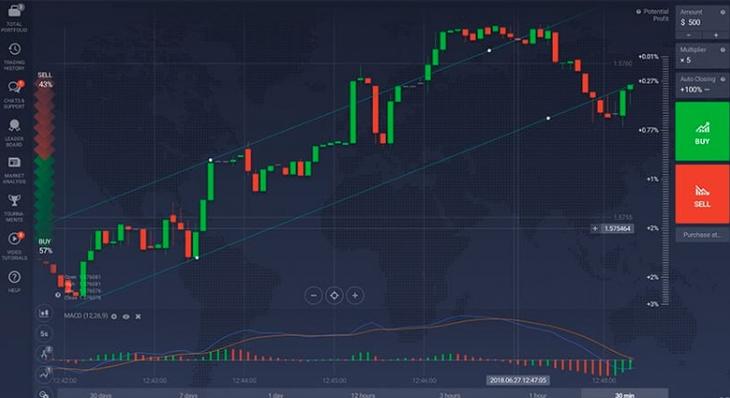 Traders can easily look up their preferred currency pairs or cryptocurrencies and analyze the most up-to-date information relevant to the preferred currency. The company offers for trade 12 of the significant cryptocurrencies from Bitcoin and Ethereum to Zcash and Monero.
The user interface provides access to charts, history of trading, and consumer support. And should there be an issue, the trader can quickly start a dialogue with a member of the support team.
The resources section is another nifty feature which grants access to educational as well as training material. The site has many short video tutorials that are integrated into it thus allowing traders to access these materials without leaving their practice accounts.
Both the demo version and live version of the IQ Options trading platform are alike, and traders can "up their experience" by employing the virtual funds associated with the demo account. These funds are replenishable should things go sideways.
Instruments Traded
IQ Option offers Forex, stocks, options as Contracts for Difference. A Contract for Difference is a derivative that pays out the trader based on the price difference at the beginning and end of trading day.
CFDs instruments are also levered. This characteristic could boost one's returns on condition that one appropriately manages their risks.
The leverage that IQ Option provides with these CFDs differs on the basis of asset class. Stocks have a leverage of 20x, cryptocurrencies 5x, commodities 50x and currency pairs 1000x. This means that such instruments should be traded very carefully.
IQ Option is popularly known for its options derivatives, especially the digital option instruments. The instruments have a definite loss and profit, i.e., they are asymmetric. This is how it works: the trader lays out a premium on the options. There will be an expiry time and price. Should the option expire in the money, then you can make a very significant return on initial investment. Otherwise, you stand to lose the laid-out premium in the case of out-of-the-money expiry.
Financing and Cash Withdrawal

There are a number of payment options which the company accepts, and traders can use. Cards are accepted as well as receipt of funding through various online payment platforms like Web Money and Skrill. Wire payments are also accepted; however, they take longer than cards. The advantage of wire transfers is that the transaction charges will be much lower for more significant amounts.
For newbie traders, the minimum funding amount is $10 and gives access to the live account.
IQ Option claims that withdrawals can be made instantly with minimal questions and up to 3 days. They also claim that withdrawal amounts can be processed to the extent that one pleases; of course, based on the amount one has in their account.
Jurisdictions and Languages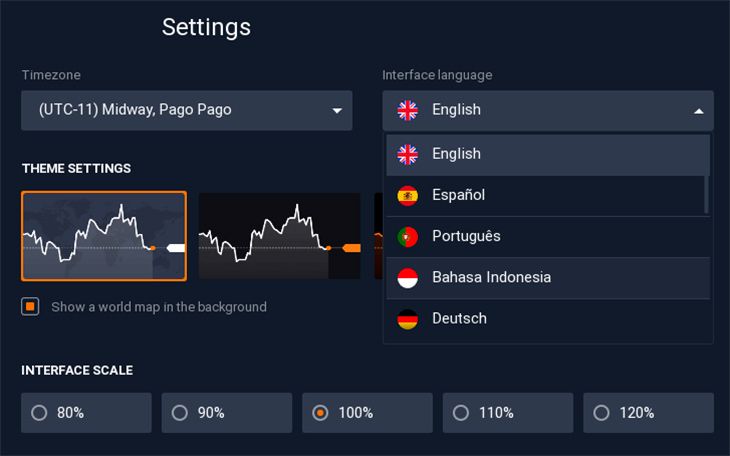 The company currently has support for more than 10 different languages and allows funding in some of the major currencies including the Sterling Pound, Euros, and the US Dollar.
In adherence to local laws, there are certain nations in which the company does not operate and from which it does not accept traders. The countries are the Afghanistan, Albania, Australia, Belarus, Canada, Iran, Israel, Japan, North Korea, Palestine, Russia, Syria, Ukraine, the UK, and the USA. Traders from any other country (Kenya, Nigeria, South Africa, etc.) are welcome to participate unless otherwise stated.
IQ Option Practice Account (Demo)

A significant advantage of IQ Option is their provision of a free practice account. Unlike other similar platforms, the company gives traders up to $10,000 virtual funds which can be employed for practice purposes before trading live.
The demo platform allows for one to trade for their desired time period. In essence, there are no time restrictions. On depletion of your virtual funds, you can always have them replenished. This is an excellent way for newbie traders to practice their skills before investing any actual money.
Live Accounts

There are two types of Live Accounts one can utilize:
Real Account: this is an entry-level account which requires a minimum financing of $10. The account provides access to more than 300 assets of different classes. This account has the same functionality as the demo account.
VIP Account: this is an account

available to clients that deposit significant amounts (the exact amount is subject to change)

. The account comes with certain perks like a VIP Account manager who is always available to answer your queries, and monthly trading reports put together by expert analysts at IQ Option.
IQ Option Mobile Trading & Apps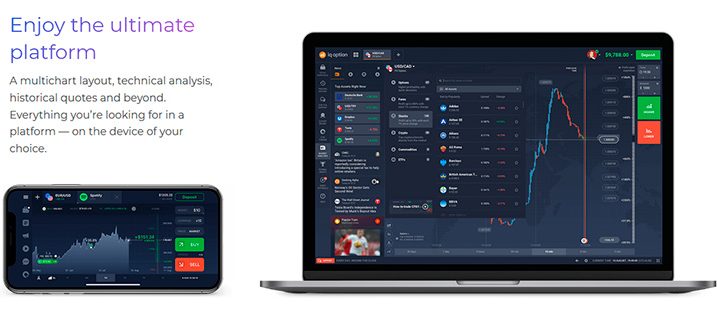 Unlike many other exchanges and platforms, IQ Option has a mobile trading functionality. This functionality is especially advantageous to traders who would like to keep track of their trades when away from a desktop or laptop.
The company has apps on the leading mobile platforms i.e. Google Play and iOS. These apps are free to download and connect to one's account immediately once set up. This makes simultaneous management of different trades quite easy when on the go.
IQ Option Trading Tournaments
Another feature that sets IQ Option apart from its rivals is trading tournaments. These are one-on-one trading contests amongst users of the platform with specific set prizes to be won.
The contests usually require a small enrolment fee and last for an average of half an hour. Upon successful entry into the contest, you are given practice funds to trade with. The trader with the most returns wins the contest. Prizes are mostly cash prizes.
Customer Support
Traders on the IQ Option platform can contact the support team through email or utilize the chat functions and contact forms. The site claims an average response time of 46 seconds and resolving of tickets within 24 minutes. Traders with more personalized needs can upgrade to a VIP Account which comes with an account manager.
In retaining an international focus, the company offers a possibility to transact in a number of international currencies and provides support in many of the widely spoken languages including English, Spanish, German, French, Italian amongst other languages.
The company also observed strict adherence to identification standards and users should be aware that when registering for an account, they will be required to submit personal data as well as verification of their contact details
The following are the different ways to contact IQ Option:
IQOption Limited has its office at Hinds Building, Kingstown, St. Vincent and Grenadines
Use the "Ask Question" feature to find quick answers

Up-to-date information about IQ Option customer support can be found on the official website: https://iqoption.com/en/contacts.
Pros and Cons
Pros
Wide range of assets are covered
Availability of purchasing via credit card
State-of-the-art platform
Margin trading available
Cons
Limited Support
Limited Jurisdictions due to local laws in specific countries.
Users only trade cryptocurrencies but don't own them.
Frequently Asked Questions

Is IQ Option legit?
Yes! For more details refer to the introduction section of this review.
What is the minimum deposit and trade amount?
The minimum deposit is $10 for a standard account. For more information refer to the Financing and Cash Withdrawal section of this review.
What assets can you trade?
CFDs on Stocks, Exchange-Traded-Funds, Cryptocurrencies among other assets like digital options.
Is IQ Option available in South Africa, Kenya and Nigeria?
Based on the platform's data, we can say IQ Option is a key player in the African market. Furthermore, their approach towards traders from South Africa, Nigeria, Kenya and other African countries is complimentary. Customer support languages in English, Spanish and Portuguese enables the company to extend its services to the rest of the continent as well.
Conclusion
IQ Option is a remarkable online trading platform that combines high levels of both transparency and functionality. It is very popular in Africa, especially in South Africa, Nigeria and Kenya. The company provides its users with an enormous value and gives them confidence in trading as it keeps up with the most recent financial regulations.
Sign up now to enjoy features such as an advanced online and mobile trading platform, free practice account, analysis & alerts, and risk management tools. Become part of a massive trading community to discuss trading opportunities and ideas. Use features such as Community Live Deals and Traders' Sentiment to follow other traders and learn from them. Online trading is definitely not a solitary experience at IQ Option, which welcomes the newest traders with open arms and teaches them how to trade successfully.