Summary
The internet presents new ways of trading online year in year out. Anybody who knows how to make good of an opportunity knows of the underlying cash that exists in online platforms, all but waiting to be uncovered. Yet, despite the wide range of possibilities available, trading online somehow still poses as a challenge for many. And with good reason, almost all relevant ways available require a significant amount of personal investment, such as procuring assets to sell, spending money on ads and more.
Pros
• Access to a comprehensive education system.
• The company offers stellar customer support to assist with your trading requirements.
• A user-friendly and intuitive trading platform that lets you trade with ease and efficiency.
• A low minimum deposit and investment allow traders to get started with the smallest amount of cash available to them.
• An exceptional 24-hour operational customer care service that lets you enjoy all menu from support forums, emails, telephone numbers, you name it.
Cons
• Limited trade types
• Limited account types
Nevertheless, there are online platforms that give you the chance to profit in the long run with minimal initial investments – financial services like Olymp Trade.
Olymptrade is an online trading stage for Fixed Time Trades (FTT); a financial service that can help you to pocket some money provided that you know the market well enough.
Understanding How Olymp Trade Works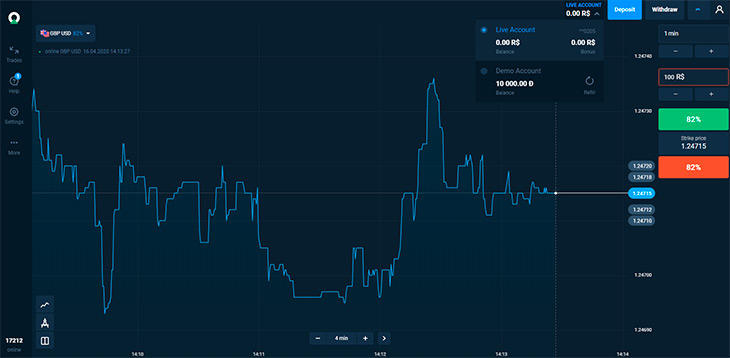 Many times, people have invested their money in the wrong place because of a lack of knowledge; hence it's important to understand the nature of your preferred trading platform before you get into bed with them.
'Fixed Time Trades' are contracts that have fixed risks and rewards. Basically, they're based on a mere 'yes' or 'no' proposition. Traders must decide whether an underlying asset, such as a commodity, currency, or stock, will rise or drop during a set period. Their earnings are shown up front to them if their predictions are correct.
Fixed Time Trades vs Forex Trading Compared
Financial markets, on the other hand, offer more variability and higher risk for traders. In the case of forex markets, for example, traders have to predict not only whether an asset will go up or down, but how high or low it goes. Hence, the final risk and profit are uncertain.
Unlike Fixed Time trades that operate on specific timelines, forex markets give users the flexibility of opening and closing a trade at a time that's convenient to them. Trades can even last for months. Of course, this has its pros and cons. You can read more about Olymptrade Pros and Cons here.
Top Features of Olymp Trade
Here are the top features that set Olymp Trade apart from the rest of the South African, Nigerian and Kenyan rivals in the industry:
Free Educational Resources – Olymp Trade not only offers you a safe and secure online trading portal, but also teaches you how to make successful trades.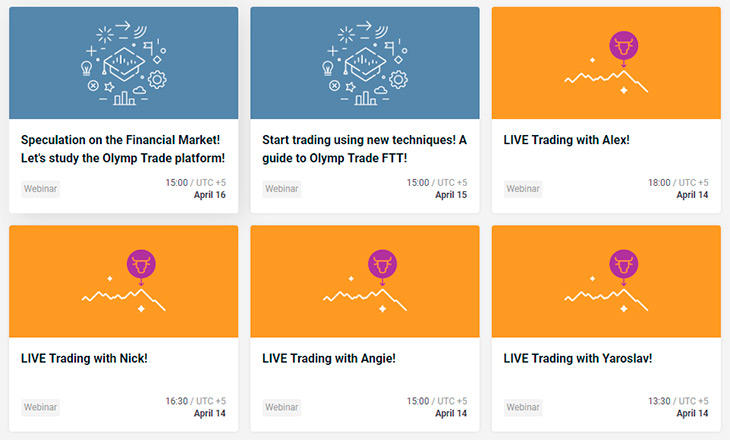 Separate free training is available for beginners as well as experienced traders. Beginners can get high-quality strategy-based trading instructions, gain familiarity with financial issues, and understand trading psychology. Experienced traders can learn about managing their capital and original trading strategies and gain access to analyst webinars.
Analytics – This tool includes an economic calendar and a number of trading signals developed by expert traders. While trading signals do not guarantee profits, they certainly help improve traders' chances of making a successful trade.

Blog – Olymp Trade also maintains a blog, on which it posts the latest updates, trends, news, analysis, and other value information that helps traders learn more about the trading world.
How Much Can You Make with Olymp Trade Platform?
The Olymptrade platform lets you earn up to 92% profit (Expert account) with minimum investment. With a minimum deposit of $10, you can begin to trade with as low as $1 and earn up to 82% profit on a regular Starter account.
Closing your trade is quite simple and convenient, especially if you're a beginner trader. The first step involves choosing an asset after which you're supposed to indicate the trade amount and expiry date. This reveals the closing time for your trade for that specific asset and gives you ample time to predict the extent to which its price will rise or fall.
Additionally, the company has an affiliate program through which you can pocket some cash with no investments at all. Recruiting affiliates for the scheme opens you up to a number of benefits including; a fast compensation payment, incentives through valuable prizes and gifts, and provision of informational and technical support for affiliates.
What Ensures the Trading Platform's Reliability?

Since its inception in the year 2014, Olymp Trade has grown popular in its operations, as is evident in the 10,000,000 downloads of the trading app from Google's Play Store.
The company understands the confusion that a lot of beginners have to contend with during the initial stage – hence the emphasis on extending technical support. It doesn't matter which corner of the universe you live in. Are you in Nigeria? No problem! Are you trading from South Africa or Kenya? Somebody will always be there to offer a helping hand in your language and time zone.
Also, the fact that FinaCom regulates the trading platform shines a light to the lengths its founders have gone to in a bid to earn the trust of traders. FinaCom is the entity that traders go to for legal assistance in case of a dispute with their financial service provider. Their policies and regulations are as strict as they get. Just being a registered as a FinaCom member demonstrates the legitimacy and reliability of Olymp Trade as a Fixed Time trades' merchant.
Only 6 years into the industry, Olymptrade has managed to scoop the following awards:
"The fastest growing broker" – ShowFX World 2016
"The best platform for trading" – Le Fronti 2016
"The best broker"- KROUFR Awards 2016
"The best financial broker" – CPA Life Awards 2017
"Innovative broker" – IAFT Awards 2017
"The best broker" – The Forex Expo 2017
"The best trading platform" – Le Fonti 2018
These position Olymp Trade as a leading provider of financial services in terms of overall client satisfaction, trust, and transparency.
How to Register and Open a Free Demo Account
A lot of experience comes in handy when trading. Whether a beginner or an expert, a demo account lets traders buy and sell for free, giving them the much-needed experience and a chance to familiarize themselves with the trading environment.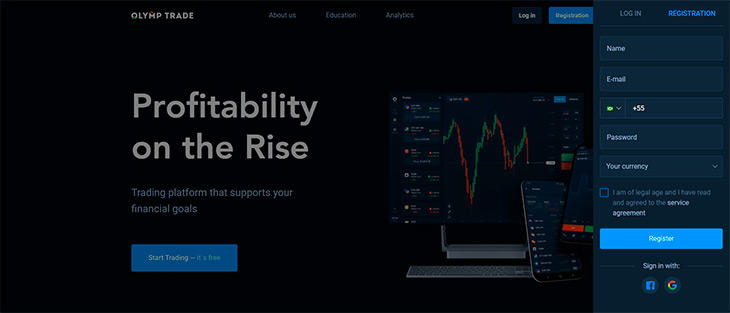 If you're a beginner, who just wants to see how it works, no real money is needed. Olymp Trade's free demo account comes with 10.000 virtual units.
Simply register at the company's site
Click "Open a new account"
Sign in as a member
Select a Demo account to start practicing.
Types of Accounts on Olymp Trade
Free Demo Account with 10.000 virtual funds.
Standard Starter account. A minimum investment of $10 is required to hold a standard account. Investors can trade at any range from $1- $2000 and get 80% of the investment. Generally, the minimum withdrawal amount one can make is $10 which takes an average of one day to process. Sometimes, withdrawn funds last up to 3 days to clear.
Expert account (VIP). Interested investors have to deposit at least $2000 and can trade at any range from $1-$5000. From faster withdrawals to trading assistants, a VIP account offers its holders a number of perks as seen below.
Benefits of Holding a VIP Account
Every VIP trader on the platform has a financial analyst attached to them. These are expert traders who use their experience to solve the user's problems and give them insights on certain issues concerning the trading platform that others don't have.
A higher 'return on asset' means increased profits for VIP traders.
Investors receive unique strategies well-known for their excellence and efficiency, in the form of comprehensive step-by-step guides.
A VIP account offers a higher transaction limit of $5000.
Risk-limited trades. This is a loss-evasion strategy in case of a wrong prediction. Olymp Trade offers these to each new VIP trader as a welcome bonus.
Which Assets Can You Trade?
Here's a list highlighting all the assets that are tradable on the financial stage:
Currency pairs – EUR/USD, USD/JPY; GPB/USD; USD/CHF; USD/RUB; AUD/USD; EUR/RUB; USD/CAD; EUR/CHF; EUR/JPY; AUD/CAD; AUD/CHF; AUD/JPY; AUD/NZD; CAD/CHF; And others.
Commodities – Gold (XAU/USD), Silver (XAG/USD); BRENT; Natural gas; COPPER; PLATINUM.
Stocks – AAPL (Apple Inc), BA (Boeing Co); FB (Facebook Inc); GOOGL (Google Inc); IBM (IBM Corp); TSLA (Tesla Motors Inc); KO (The Coca-Cola Co); MSFT (Microsoft Corp); MCD (McDonald's Corp); V (Visa Inc); SBUX (Starbucks Corp); BMW; Nintendo.
Indices – FDAX- Germany; ES (S & P500)- US; NQ (NASDAQ 100)- US; YM (Dow Jones)-US; CAC 40- France; EURO STOXX 50; Hang Seng Index- Hong Kong, China; Nikkei 225-Japan; RUSSELL-US; FTSE 100-Europe.
Crypto Assets – Bitcoin; ETH/USD; Ethereum; LTC (Litecoin)/BTC (Bitcoin); Bitcoin Cash (BCH); Bitcoin Gold (BTG); Ripple (XRP); Monero (XMR); Dash (DASH); Zcash (ZEC); Ethereum Classic (ETC); Litecoin (LTC).
Olymp Trade Apps – Trading on the Go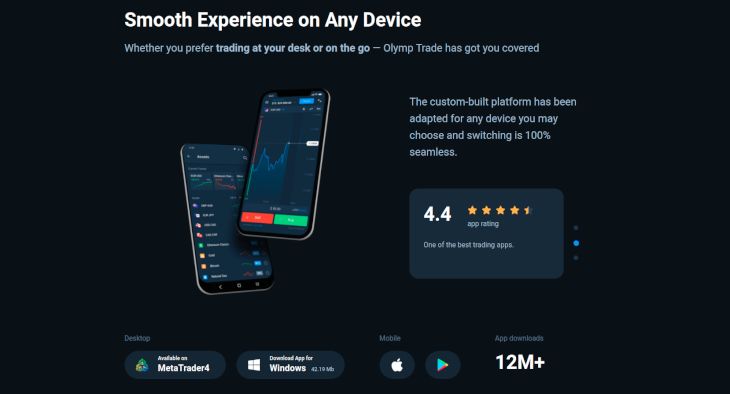 You have two ways to trade on the Olymp Trade platform — in browser or via downloadable native mobile apps. Customers usually prefer to trade in browser as it is convenient as requires no download.
However, if you prefer to download an app, you will be pleased to know that Olymp Trade offers dedicated downloadable apps for Android, Apple, MacOS, and Windows devices. The download links are available on the Olymp's official websites. You just have to click on these links to initiate download.
Olymp Trade's mobile trading interface enables you to register a new account in a few seconds and accepts a variety of technical indicators and interactive charts. It also offers excellent customer support, a variety of assets, and a safe and secure online trading environment.
Getting Smart with Depositing and Withdrawing Money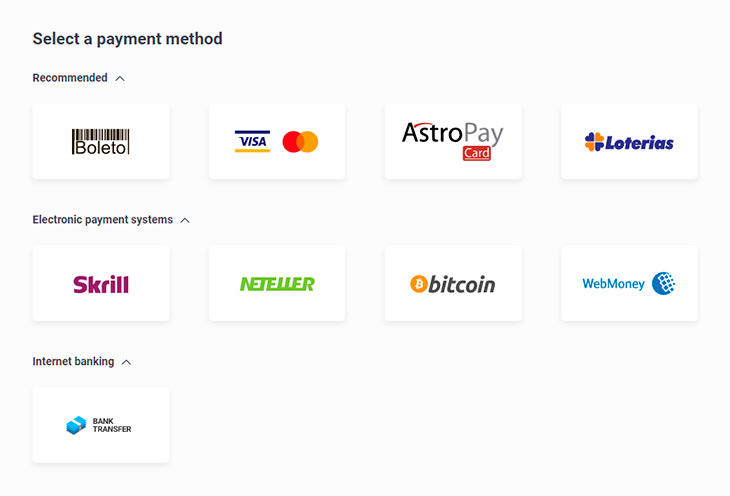 How to Making a Deposit
VISA card makes one of the most natural methods to deposit funds. Other ways you can put money into your account include Visa Electron, QIWI WALLET, MasterCard, NETELLER, Skrill, epayments, Webmoney, and more. Note that these methods might vary with location.
The thing that makes VISA an exception is the short time it takes for your funds to reflect on your account on completing a transaction. Hence you can start buying and selling almost right away. To deposit money:
Log in to your Demo account
Click on 'Make a deposit' at the top right corner of your trading interface. You'll be taken over to the payments page.
Click on the 'MasterCard/Visa' (your preferred mode of payment) logos below the bank cards tab.
Select your preferred deposit amount. This might attract a bonus which you can accept or decline.
Click on 'Deposit' at the bottom right of the page. You'll be redirected to the card payment page.
Enter your card details (names, card number, CCV number, and validity period) and click on 'Pay.'
Your deposited amount should reflect on your Olymp Trade account within a few minutes.
How to Withdraw Money from Olymp Trade in Nigeria, South Africa or Kenya?
Note that withdrawals can only be made to the payment systems used in making the deposit.
Also, bonuses can't be withdrawn, only profits.
With Olymp Trade, there are no removal fees. This isn't to say that third-party payment processors won't deduct currency conversion and processing charges. Account verification via text, email, or phone call is mandatory before making a withdrawal.
To withdraw money from Olymp Trade:
Log into your account
Click on 'Make a deposit' followed by the 'Withdraw' selection on the payments page.
Fill in on the required information, ensuring the amount equals/exceeds $10.
Select the payment method, ascertaining it's the same one with which you deposited money. Fill in the remaining details and finalize the transaction.
The withdrawal request should take between 24 hours to 5 working days to process. In the event that the process doesn't go as stated above, feel free to contact the payment system's support team for assistance.
Customer Support at Olymp Trade

Olymp Trade has a comprehensive FAQ and you are most likely to find answers to your questions in the FAQ section. If you still need help, you can try one of these methods:
Email to [email protected] and get a response in one day.
Use the online contact form to connect with a customer support agent.
Launch the live chat window to connect with a customer support agent.
Interact with staff and other traders on social networking sites YouTube and Facebook
Call the hotline +27 (21) 1003880 for South Africa
Prompt customer support is available round the clock in eight languages at Olymp Trade. The average waiting time to get a response is 15 seconds.
Why you Should Choose Olymp Trade Over Other Online Trading Platforms?
Advantages of using Olymp Trade
Access to a comprehensive education system.
The company offers stellar customer support to assist with your trading requirements.
A user-friendly and intuitive trading platform that lets you trade with ease and efficiency.
Olymp Trade offers its incentives inform of risk-free trades.
A low minimum deposit and investment allow traders to get started with the smallest amount of cash available to them.
An exceptional 24-hour operational customer care service that lets you enjoy all menu from support forums, emails, telephone numbers, you name it.
Contrarily, every trader has to brave the demerits that result from buying and selling assets on the 2014-established trading stage.
Disadvantages of using Olymp Trade
Limited trade types
Limited account types
FAQ
📈 What is asset liquidity?
Liquidity refers to the capability of an asset to sell fast with minimum monetary losses akin to the speed with which a sale takes place.  Alternatively, liquid means 'convertible into money.'  The more liquid an asset is, the less the risk for the investor. Currencies top the list as the most liquid asset, followed by securities and commodities.
🛑 Will Olymp Trade scam me?
Being fully regulated by the top entities in the world puts Olymp Trade at the forefront of legitimate asset trading. Rest assured your funds are insured. What's more, any problems you come across during trading will be resolved.
❓ Can I open another account?
No. Olymp Trade limits its traders to one account per client.
Be sure to visit the trading platform site's FAQ page for answers on any additional questions you may have regarding the company's trading stage.
🛡️ Is Olymp Trade Regulated in South Africa, Kenya, and Nigeria?
Based on the platform's data, there isn't a doubt that Olymp Trade is a key player in the African market space. Furthermore, their approach towards traders from SA, Kenya, and Nigeria is complimentary. Customer support languages in English, Spanish and Portuguese enables the company to extend its services to the rest of the continent as well.
Closing Thoughts

Plenty of success stories and comments have been posted on the service provider's official site and other online forums. The bread crumbs have been laid out. All that's left is for you to follow them.
So, are you looking to make money buying and selling assets? Visit the Olymp Trade platform's official website and begin your journey as a real trader.