Summary
eToro is one of the leading online social trading platforms in the world. Millions of customers have already discovered the art of making profits by automatically copying the trades of successful traders on the eToro platform. If you are a successful trader, you can earn an income by allowing other traders to copy your trades on eToro.
Pros
• Great Trading Platform
• CopyTrader
• Popular Investor Program
• Leading Social Trading Platform
The following features make eToro a great social trading platform for investors from South Africa:
Great Trading Platform – eToro is a great social trading platform, permitting trading on a variety of stocks. It instantly executes market orders and does not impose any limits on daily withdrawals. So far, more than 274,907,184 trades have been opened on eToro and the number is rising even as we write.
CopyTrader – CopyTrader is eToro's patented technology, which allows investors to automatically copy the trading portfolios of successful traders. In addition to using CopyTrader, traders can communicate with other traders and discuss trading strategies with them. According to the figures displayed on the eToro website, 73% of the 124 million trades copied on eToro have turned out to be profitable.
Popular Investor Program – eToro is home to a popular investor program, which acknowledges the talent and expertise of traders who are willing to share their knowledge on the platform. eToro's top-tier investors earn as much as 2% every year on the assets they have under management.
Leading Social Trading Platform – eToro is home to a community of millions of traders and investors from 140+ countries. The online broker uses the latest security protocols to protect trader funds. It also implements a strict privacy policy and never shares trader data with anybody.
Can South African Investors Trust eToro?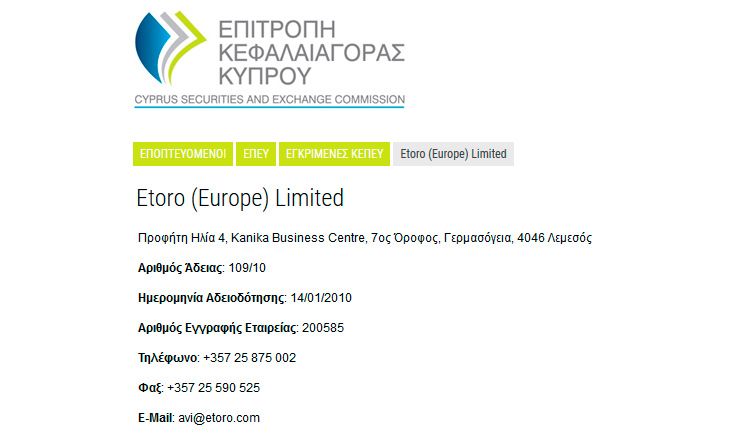 South African investors and traders can trust eToro for the following reasons.
The parent company of eToro is eToro (Europe) Limited, a registered Cypriot Investment Firm (CIF). eToro Europe Ltd operates under a license granted by the Cyprus Securities & Exchange Commission (CySEC). eToro operates in the UK as eToro (UK) Limited, a company regulated and authorized by the Financial Conduct Authority (FCA). Both eToro UK Ltd and eToro Europe Ltd operate under the Markets in Financial Instruments Directive (MiFID).
eToro operates in Australia as eToro AUS Capital Pty Ltd, a company that has received an Australian Financial Services License (AFSL) from the Australian Securities and Investments Commission (ASIC).
In the US, eToro is operated by eToro USA LLC, a company registered as a money services business with FinCEN.
Guide to Opening an Account at eToro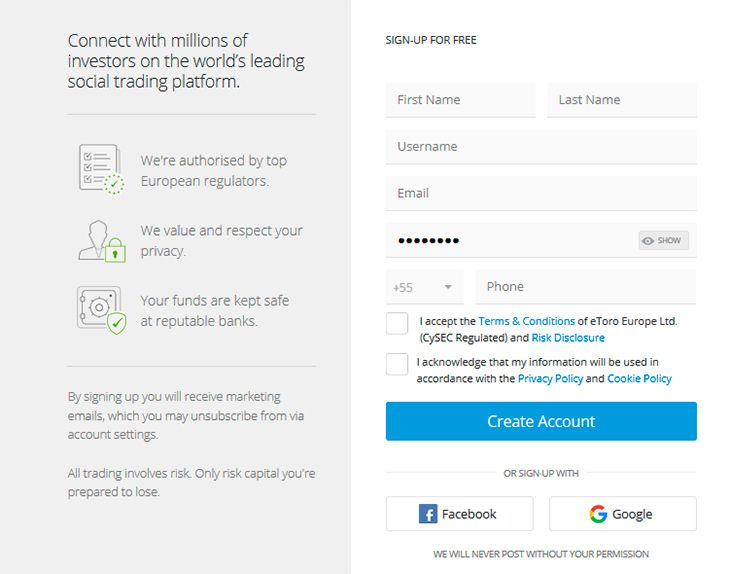 The Sign Up button is right on top of the website. You just have to click on it to get started. If you have a Google or Facebook account, you can sign up through those accounts.  If not, you have to enter your name, create a username and password, and input your phone number and email address to get started.
You have the option of becoming a professional client or a retail client at eToro. To become a professional client, you have to pass a suitability test. As a professional client, you can enjoy negative balance protection, high leverage trading, and absolutely no leverage restrictions.
As a retail trader, you can access all the trading assets at the online broker. You can either trade manually or copy trades. Although leverage is highly restricted for retail traders, you can enjoy negative balance protection, and margin closeout restrictions.
Trading Instruments

You can trade on literally thousands of assets on eToro, and here is a list of the trading instruments:
Stocks – Some of the popular stocks are Facebook, Google, and Apple.
Commodities – Trade on natural gas, oil, and gold.
Currencies – eToro permits currency trading only as CFDs, and some of the most popular currency pairs are EUR/GBP, USD/JPY, and EUR/USD.
ETFs – Trade popular ETFs such as SPDR Gold (GLD), Emerging Markets Index (EEM), and Proshares Ultra S&P 500 (SSO).
Indices – Trade popular indices such as Dow Jones (DJ30), DAX Index (GER30), and Nasdaq (NSDQ100).
Cryptocurrencies – eToro offers trading on cryptocurrencies such as Ethereum, Litecoin, and Bitcoin.
Guide to Funding eToro Account and Withdrawing Profits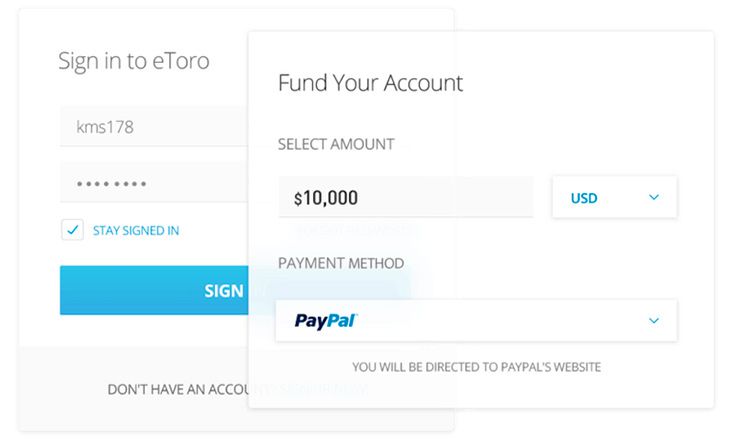 Making deposits in your eToro account is quite simple. You have to log in to your trading account, click on the Deposit Funds link, choose your currency, input the amount you want to deposit, and select your preferred deposit option. Making deposits at eToro is safe and secure because it uses the latest Secure Socket Layer (SSL) technology.
South African traders can use Wire Transfer to load their trading accounts. It takes around 3 – 5 days for the funds to appear in their accounts. The minimum first-time deposit is in the range of $200 to $1000, and the exact amount depends on the country of residence. The minimum deposit amount for all subsequent deposits is at least $50, but in case of wire transfer, it is $500.
eToro supports only USD, but traders are free to make deposits in their home currency. eToro converts their deposits into USD according to the latest exchange rate and charges them a foreign currency conversion fee.
South African traders can make withdrawals using the following methods:
Credit Cards
PayPal
Bank Transfer
The online broker takes one banking day to process payouts, but the withdrawal time frame varies from one withdrawal option to the other. According to a table on the eToro website, the withdrawal time frame for credit/debit cards and wire transfer is up to 8 banking days, and the withdrawal time frame for electronic wallet services such as WebMoney, PayPal, Neteller, and Skrill is 1 – 2 banking days.
Clients should withdraw at least US$50 at a time. Also, they cannot make a payout request without first verifying their accounts. If traders withdraw more than US$50, they have to pay a withdrawal fee of US$25.
Get Educated at eToro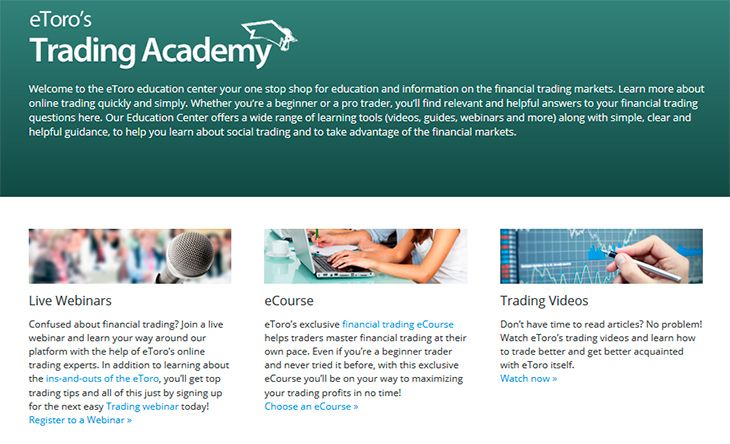 eToro offers a Trading Academy that provides high-quality training to beginners, intermediates, and expert traders. The academy offers a variety of resources such as guides, webinars, tutorials, videos and more.
Here are some of the top features of the eToro Training Academy:
eCourse – Designed for beginners, these eCourses are an excellent source of information about the online trading world.
Live Webinars – eToro encourages its clients to join live webinars and learn about the intricacies of online trading. These webinars include some valuable tips that cannot be found at any other place.
Training Videos – The videos at eToro are ideal for busy players who have neither the time nor the patients to check out eCourses or join live webinars.
Features that Make eToro Unique

Here are some features that make eToro stand in a class of its own:
eToro Tools – You can use trading tools such as Daily Market Review, eToro Economic Calendar, eToro Earnings Report Calendar, and eToro Professional Client to make your trades more profitable.
Social Trading Platform – eToro's social trading platform enables the copying of trades from successful traders. Clients can use features such as Copy People Screen to find traders to copy from and the Editor's Choice Section to get a list of popular investors.
Popular Investor Program – eToro has designed the Popular Investor Program to create a dynamic community of investors and to encourage the best of them to share their knowledge, skills, strategies, and expertise. Through this program, eToro rewards successful traders who permit others to copy their trades with as much as 2% of their total assets under management (AUM).
Social News Feed – This feature incorporates the best social networking elements so that traders can easily follow traders and financial instruments they prefer, start a discussion with fellow traders, and interact with others in the eToro community. Customers can post updates, share posts, comment on other trader's post, and get notifications.
eToro on Social Networking Sites – eToro has an active presence on social networking sites such as Twitter, Facebook, YouTube, Instagram, and Telegram.
CopyPortfolios – Clients can invest in two varieties of Copy Portfolios – Market Portfolios, which comprise commodities, ETFs, and CFD stocks under a preferred market strategy and Top Trader Portfolios, which comprise the most successful traders in the eToro community. Traders can use this feature to minimize their long-term risks, grab opportunities for growth, and create diversified investments. Clients can also partner with eToro and launch their own CopyPortfolio on its platform.
eToro Partners – Those interested can partner with eToro, direct traffic to the eToro website, and earn part of the profits that the directed traffic generates for eToro. The company provides a lot of marketing material in the form of mailers, banners, and direct links to help its partners drive traffic to the eToro.
eToro FAQs

Q1: I have copied a trade. Can I interact with the trader and ask for advice?
A: eToro encourages community members to interact with one another. This leaves you free to communicate with any trader, including the one whose trade you have copied. You can either open a discussion on the copied trader's profile page or just comment on his/her trade.
Q2: Why should I verify my account?
A: eToro has to verify your account not only to provide you the best brokering services, but also to comply with regulations. To verify your account, you have to submit to eToro copies of a government-issued identity card and address proof. You also have to verify your phone number by entering a code you receive from eToro through SMS into the box provided. You should also be willing to provide copies of any extra document that eToro may request from time to time.
Q3: What currencies does eToro support?
A: Since eToro operates in USD, it does not charge fees for deposits made in USD. In addition, it accepts deposits in EUR, JPY, GBP, RUB, AUD, CAD, and CNH. When you deposit funds in your home currency, eToro will convert it to USD and charge you a foreign currency conversion fee.
Q4: What are the advantages of using eToro Wallet?
A: The eToro Wallet is available to residents of South Africa. South African traders can use it to gain easy access to the cryptocurrency market. They can convert cryptoassets in their wallet to any other available cryptoasset. However, eToro does not permit transfer of coins from the wallet to trading accounts at present.
Q5: Can I close my account if I feel that trading is not my cup of tea?
A: You have to visit your account settings page and just click on the account closure link to close your account. You can also withdraw all the funds in your account at the time of closing.
Our Opinion of eToro
eToro is an online brokering service with a difference because it incorporates innovative copy trading features with older and well-established social networking elements. The result is a social trading experience that cannot be found anywhere else.
The Forex broker is popular for features such as CopyTrader, CopyPortfolio, Partner CopyPortfolio, Popular Investor Program, and much more. You will not regret your decision to join one of the six million satisfied investors in the eToro community.
eToro Review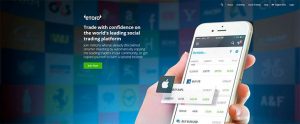 The following features make eToro a great social trading platform for investors from South Africa: Great Trading Platform - eToro is a great social trading