Summary
Established in 2006, FxPro has witnessed exponential growth over the last decade. Today, it provides online brokering services to institutions and retail clients from 170+ countries in different parts of the world.
Pros
• Recipient of 60+ UK and international awards
• 370 million trade orders executed so far
• Most Trusted UK Brand according to Global Brands Magazine
• No commissions and tight spreads
Cons
• No promotions and bonuses
Here are some of the figures displayed on the broker's website:
15+ years of industry experience
60+ international awards
7 global sponsorships
4 trading platforms
6 asset classes
7000+ trade orders executed per second
Some of the trophies in FxPro's cabinet include:
Best Forex Trading Platform by the Investors Chronicle and Financial Times
Best Forex Trading Tools by QFX
Best Automate Trading Platform FXPro SuperTrader by International Finance Magazine Award
Best Trading Platform Award
Reasons for South Africans to Trade with FxPro.com

Here are a bunch of reasons for South African investors and traders to consider signing up at FxPro.com:
Recipient of 60+ UK and international awards
370 million trade orders executed so far
Most Trusted UK Brand according to Global Brands Magazine
Trade CFDs on popular currency pairs, metals, shares, indices, and energies
Wide range of payment methods
No commissions and tight spreads
Choose from MT4, MT5, FxPro Edge, and cTrader platforms
Home to a community of 870,000 investors and traders from 173 countries
Licensed by 5 financial regulators
Trade on Android and iOS devices
Can South African Clients Trust This Broker?
South African clients can definitely trust this broker because it has established the best industry standards to protect clients' funds. The broker maintains clients' funds in reputed international banks and never mixes them with its own funds.
Moreover, it has received licenses from five reputed financial regulatory bodies:
FxPro UK Limited is licensed and regulated by the UK Financial Conduct Authority (FCA).
FxPro Financial Services limited operates under a license granted by the Cyprus Securities and Exchange Commission (CySEC).
FxPro Financial Services Limited is licensed by the Financial Sector Conduct Authority (FSCA), the financial regulator in South Africa.
FxPro Global Markets Limited operates under a license issued by the Securities Commission of The Bahamas.
FxPro Global Markets MENA Limited is regulated by the Dubai Financial Services Authority.
Types of Accounts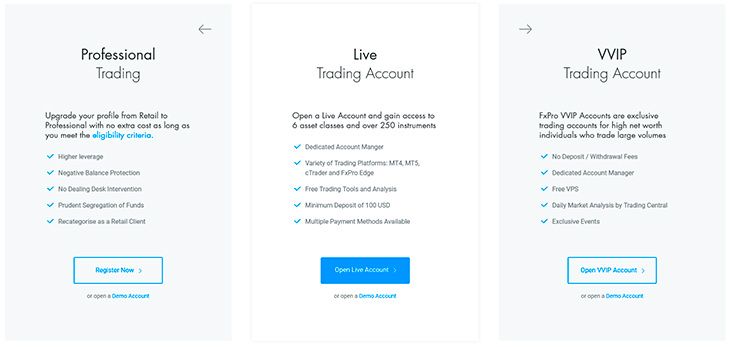 You can open one of three types of accounts at FxPro.com:
Live Account – Holders of this account gain access to over 250 trading instruments, free trading tools and market analysis, and dedicated account mangers. The minimum deposit amount is $100.
Professional Accounts – Holders of this account can enjoy benefits such as fund segregation, high leverage, and protection against negative balance.
VIP Trading Account – This type of account is reserved for high-volume traders. Account holders get free VPS services, invitations to exclusive trading events, dedicated account managers, free deposits and withdrawals, and daily market analysis.
How to Get Started with a Demo Account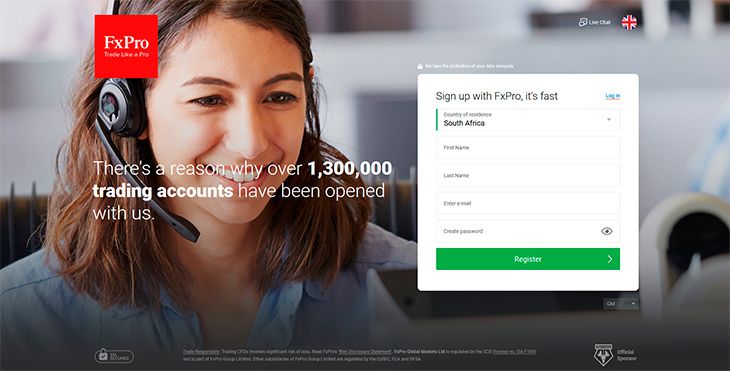 Demo accounts are ideal for beginners who do not know much about trading, but would like to learn it without risking their real money. When you open a demo account at FxPro, the online broker automatically opens a real money account as well. But you can continue to use your demo account as long as you wish and migrate to your live account only when you feel ready for it.
Follow these steps to open a demo account:
Click on the Open Demo Account link on the homepage.
An online registration form appears on your screen.
Choose your country from the dropdown box.
Enter your full name and email address.
Create your username and password.
Click on Register to open your account.
Choose from Four Trading Platforms

Depending on trading goals, trading strategies, and trading styles, traders can choose from the following platforms at FxPro:
MetaTrader 4
You can trade forex, shares, spot energies, futures, and spot metals on the MT4 platform. The hottest features include availability of micro lots, EA trading facilities, and no partial fills. Clients can download MT4 to gain access to three different types of charts, fifty technical indicators, nine time frames, and a user interface that can be fully customized.
MetaTrader 5
You can download the MT5 desktop platform or trade on their Android or iOS devices. MT5 is a browser-based trading platform, which features 21 time frames and allows clients to keep 100 charts open at the same time.
The following are the features of MT5 platform:
Spreads starting from 0.6 pips
Sell stop limit and buy stop limit orders
Tick chart trading
Market depth information
Integrated development environment for EAs
Market execution
cTrader
This trading platform offers the best available ask and bid prices and the orders are filled in a matter of milliseconds. The cTrader platform comes with the following features:
Full market execution
No stop/limit level restrictions
Full market depth
Spreads that start from 0 pips
FxPro Edge
This platform delivers tight spreads with flexible spread betting conditions. Traders can choose from hundreds of trading instruments across six classes of assets. Moreover, spread betting profits are absolutely tax free in the UK. FxPro Edge is a web platform that requires no download.
The features include:
Tight spreads
No commission
Limited risk account
Trade shares, forex, spot energies, spot metals, and spot indices
Trading Instruments

As far as markets are concerned, FxPro.com comes with the following options:
Forex Trading – Trade CFDs on more than 70 currency pairs. Enjoy features such as fast execution of orders and tight spreads. Some of the popular currency pairs are CAD/CHF, EUR/USD, EUR/CHF, CAD/JPY, and EUR/JPY.
Futures – Trade CFD's on futures from different parts of the world. Some of the popular futures include commodities, energies, and indices.
Indices – Trading opportunities are available on indices from different parts of the world, including America, Asia, and Europe.
Shares – Trade CFDs on shares of more than 150 international companies. Invest in shares of major companies from Germany, France, UK, and US. Some of the most popular shares are Coca Cola, Apple, and Amazon.
Metals – Trade CFDs on gold, silver, and platinum.
Energies – Trade CFDs on energies such as WT1, natural gas, and Brent oil.
FxPro Trading Tools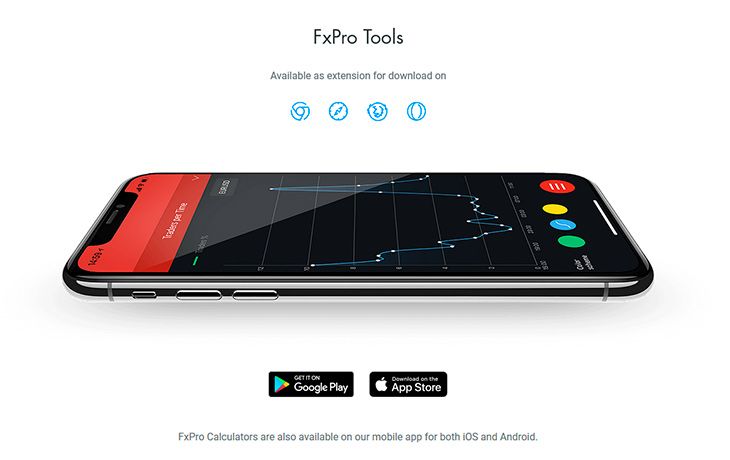 FxPro offers the following set of tools to help in trading. There are two major sets of tools at the FX broker, as follows:
Trading Tools – Choose from tools such as Download Center, FxPro Tools, FxPro Direct App, FxPro VPS, and FxPro Calculators.
New & Analysis – Get the advantage of economic calendars, earnings calendar, trader's dashboard, market holidays, FxPro market news, education section, webinars and events, and technical analysis by Trading Central.
Here are details of some of the most important tools:
Education Section – Traders can read a wide range of informative and educational articles on the basics of trading, fundamental analysis, technical analysis, and trading psychology. They also have the option of watching trading videos to improve their knowledge and skills.
FxPro VPS – The FxPro virtual private server (VPS) enables traders to run their cAlgo robots and MT4 expert advisors (EAs) 24 hours per day without having to keep their trading terminal on. The service is absolutely free for premium account holders, but is charged $30 for holders of all other types of accounts.
FxPro Calculators – Customers can use these calculators to complete a number of trading calculations. There are a number of calculators to choose from, such as the All-in-one FX Calculator, FX calculators, and FxPro tools.
FxPro Wallet – Banking Made Easy at FxPro

FxPro offers the FxPro Wallet, which helps clients to manage their risks and their money better. This tool has made it easy for traders to fund their accounts and withdraw their profits. Clients can move funds from their FxPro Wallet to their trading account and vice versa whenever they wish.
FxPro Wallet works just like any other digital wallet. Traders have to load their wallets with real money. Then they can transfer their money to their trading accounts. When it is time to withdraw their profits, they can withdraw them to their FxPro Wallet.
Customers are free to withdraw the funds in their FxPro Wallets to their credit card, bank account, or any other payment method. They can rest assured that their funds are safe in their FxPro Wallets. They can invest as much as they are willing to risk and keep the rest of their funds safe in their wallets.
You can use the following methods to load your account:
Bank Transfer and Broker-to-broker transfer – The minimum deposit amount is R7000. Deposits and withdrawals through these methods are absolutely free of cost.
Visa & MasterCard – Credit card deposits are credited to trader accounts in 10 minutes, but the withdrawal time frame is one working day. The FX broker does not charge traders for deposits and withdrawals.
Getting Help at FxPro
FxPro offers excellent 24/7 customer support in multiple languages. You can call the FX broker free from England on the number 08000 463 050 or use the international number +44 (0) 203 151 5550.
A good way to instantly connect with a dedicated customer support agent is to launch the live chat window. Or you can send an email to [email protected]
Trading with FxPro – FAQs

Q1: What are the various limitations associated with a demo account?
A: Customers can open multiple demo accounts. But the FX broker will deactivate demo accounts that remain inactive for 30 days. Moreover, FxPro limits MT4 and MT5 demo accounts to up to 70 open trade positions.
FxPro advises traders to use their demo accounts as learning tools or to test new trading plans. This is because demo accounts present simulated real market prices and conditions, which is why they don't behave the same way as live accounts during illiquid or volatile market conditions.
Q2: Does FxPro insure trader funds?
A: While FxPro UK Ltd is part of the Financial Services Compensation Scheme (FSCS), FxPro Financial Services Ltd is part of the Investor Compensation Fund (ICF). The former insures client deposits up to £50,000 for each client. The latter insures client deposits up to €20,000 for each client.
Q3: Does FxPro charge any commissions for trading?
A: The Forex broker does not charge any commission for spread betting accounts and MT4/MT5 accounts. But traders have to pay commission of US$45 for every US$1 million they trade on opening a position and US$45 on closing the position while trading metals and FX on cTrader accounts. On the brighter side, the spreads on cTrader platform are much lower.
Q4: What is FXPro Direct?
A: FXPro Direct is a tool that enables you to edit existing accounts, create new accounts, download trading platforms, load your accounts, change your information, edit your profit, and edit subscriptions and mailing options on a single webpage. FX Pro Direct provides direct access to tools such as FxPro Dashboard, FxPro VPS, economic calendar, market news, and trading central.
Q5: How many FxPro accounts can I open?
A: You can open up to five trading accounts through FxPro Direct.
Conclusion – Should you Sign Up at FxPro?
The benefits of trading at FxPro are many. It offers features such as FxPro Direct and FxPro Wallet, which makes account management and banking incredibly easy. Moreover, Fx Pro is not just an online trading platform, but also a great source of educational material.
If you are a new or inexperienced player or a seasoned player who wants to test a trading strategy, open a demo account. You can get started with a live account when you have developed the required confidence for real trading.
FxPro Review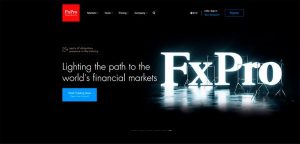 Some of the trophies in FxPro's cabinet include: