Summary
InstaForex is today the number one choice of over seven million traders from different parts of the world. InstaForex was established in 2007 and has become one of the most popular trading platforms in the world today.
Pros
• Over 300 trading instruments
• No minimum deposit
• 10+ payment methods including
• PAMM System
• Cryptocurrency Trading
Cons
• No promotions and bonuses
• Users only trade cryptocurrencies but don't own them.
According to the figures displayed on the official website, the CFD & FX broker offers the following services:
Over 300 trading instruments, including stocks, currency pairs, commodities, cryptocurrencies, and metals
No minimum deposit
Standard and cent accounts in RUB, EUR, and USD
10+ payment methods including Visa, Neteller, Skrill, MasterCard, Bitcoin, Qiwi Wallet, and Yandex
Sophisticated trading platforms for mobile devices as well as PCs, including WebTrader and trading apps
In addition, InstaForex is the winner of multiple industry awards, such as the following:
UK Forex Awards' Best Forex Cryptocurrency Trading Platform (2018)
IBMs Best ECN Broker Asia (2018)
ShowFx World's Best ForexCopy Trading Platform (2017)
Le Fonti Awards' Forex Broker of the Year for Innovation Europe (2017)
European CEO's InstaForex – Best ECN Broker (2017)
UK Forex Awards' Best Social Trading Broker (2016)
Why South African Investors Choose InstaForex: 10 Reasons
Here are 10 key reasons South African traders prefer to sign up at InstaForex:
Over 300 Financial Instruments – These include shares, spot instruments, futures, along with CFDs on indices, cryptocurrencies, and others.
ForexCopy – You can use this system to copy the trades of successful traders. You can use over 20 criteria to choose a trader to copy.
PAMM System – You can use this system to manage funds invested by many investors. This system enables investors to earn without having to trade while traders can earn extra income just for efficiently managing investors' funds.
Cryptocurrency Trading – Cryptocurrency trading at InstaForex comes with CFD trading and adequate leverage. In addition, they can get the latest news from the cryptocurrency world and up-to-date market analytics from professional traders.
Binary Options Trading – Binary trading is great for customers looking for high risks and high profits.
Deposit Bonuses – You can claim deposit bonuses in the range of 30% to 100%. If you deposit at least $1000, you become eligible to participate in prize draws with amazing prizes.
Contests – InstaForex runs trading contests regularly for beginners as well as seasoned traders. Participating in contests is a great way to hone skills while winning some great prizes.
Win a Lamborghini – Your dreams of winning this coveted red sports car may come true at InstaForex.
Leverage – You can get leverage in the range of 1:1 to 1:1000.
Licensed and Regulated – Instant Trading Limited, the parent company of InstaForex, operates under a license issued by the British Virgin Islands FSC.
Guide to Open an Account and Start Trading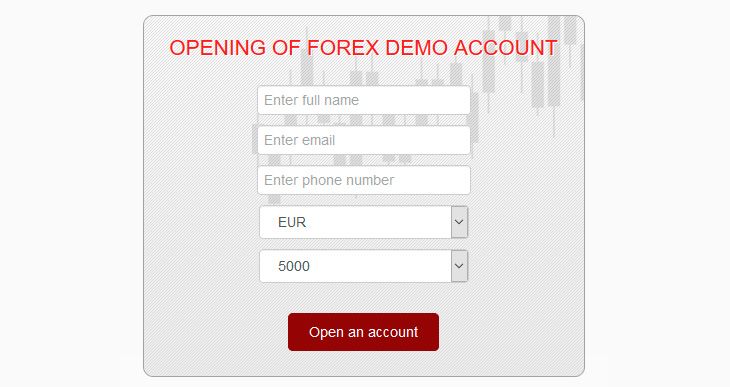 The following is a step-by-step guide to opening a demo account at InstaForex:
Download and install the InstaTrader 4 trading platform on your computer.
Once you have installed the program, launch it and select File – Open Account.
Fill in the online registration form to create a demo account.
Check the box against the declaration that you are willing to receive news through email and click on the Next option.
Choose a fast demo server.
Click on the Next button to receive information about the demo account you just created.
Demo accounts are ideal for new customers who would like to learn more about trading without risking their hard-earned cash. It is also ideal for seasoned players who want to test new trading strategies before trying them out on their live account.
If you are a skilled trader who wants to plunge headlong into live trading, follow these steps to create a live account:
Visit the official Instaforex website.
Click on the Trader tab and then click on the Open Live Account link.
Read the public offer agreement and the terms & conditions page carefully before opening the account.
Enter accurate details in the registration form.
The data you revealed while registering a new live account is not only displayed on the website, but also sent to the email address you specified while creating an account.
Download and install the InstaTrader 4 platform.
Once you have installed it, launch it, select File – Login and input your password and account number.
Also specify the server for your live account.
Account Types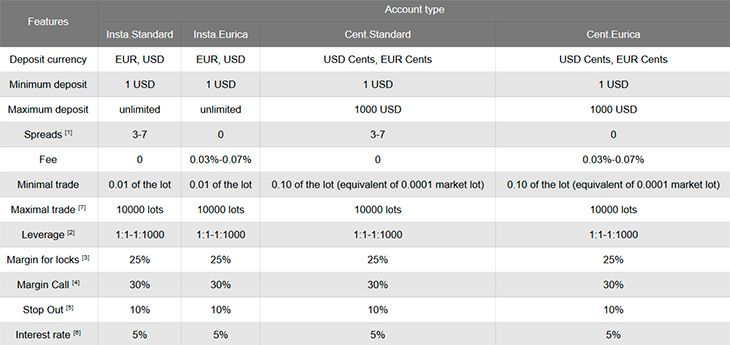 The specialists at InstaForex have developed the following types of accounts to help clients create successful trading strategies:
Insta.Standard Trading Accounts
This type of account is not associated with any fees, but clients pay fixed spread while settling trades. Traders can change the leverage and work with deposit amounts that are most convenient to them. They can trade with micro forex (minimum deposit in the range of $1 – $10), mini forex ($100 minimum deposit), and standard forex ($1000 minimum deposit).
Insta.Eurica Trading Accounts
Holders of these accounts do not have to pay any spread while opening a trade. Since zero spreads are applied for most of the currency instruments, the ask price is equal to the bid price.
This type of account is ideal for newcomers to the online trading industry because they don't have to consider the spread while opening a trade. At the same time, professional traders can also open this type of account because its characteristic features are the same as the above-mentioned insta.standard account.
Cent.Eurica and Cent.Standard Trading Accounts
These types of accounts have been developed especially for the benefit of clients who have just learned to trade. Since the associated risks are very low, these types of accounts are ideal for traders who want to test a new trading strategy.
Trading Instruments

The following is a list of trading instruments at InstaForex:
Forex Trading – Choose a wide range of currency pairs, the availability of which depends on the type of account you have opened.
CFD Trading – Trade CFDs on spot metals and shares of well-known companies such as China Mobile Limited, Cisco System, and Bank of America.
CFDs on Futures and Indices – Trade CFDs on futures, Crude Oil, Natural Gas, Brent Crude Oil, Heating Oil, and others.
Cryptocurrencies – InstaForex offers cryptocurrencies such as Litecoin, Ethereum, Ripple, Bitcoin, and Bitcoin Cash.
Trading Platforms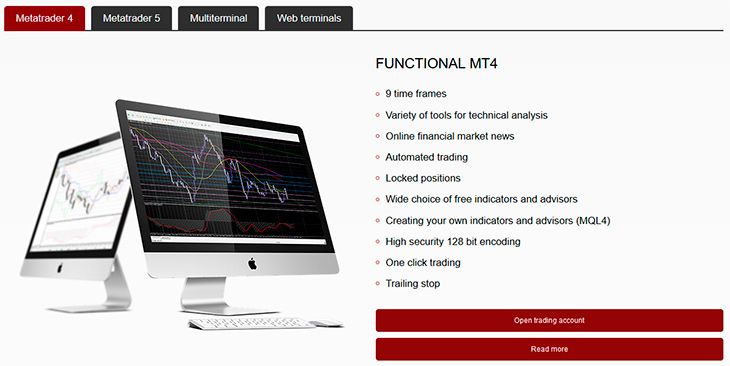 You can choose from a variety of trading platforms at InstaForex, depending on your trading requirements, skills, goals, and styles:
Trading Platforms for Mobile Devices – You can download the mobile trading apps for iOS and Android by just clicking on the links available on the InstaForex website.
Trading Platforms for PCs – InstaForex offers MetaTrader 4 for Windows along with utilities for the same.
Trading via Browser – If you wish to trade on your browser, you have the option of launching either WebIFX or InstaBinary.
Multiterminal – Multiterminal enables traders to manage multiple InstaForex trading accounts. It functions on Windows 7 or higher.
Features that Set InstaForex in a Class of Its Own

Here are some features that make InstaForex unique:
#1 Industry Leader
InstaForex is an industry leader in developing and introducing modern trading tools and technologies. Its clients were among the first to invest in the PAMM system and copy trades through ForexCopy.
The company was the first to offer MT5 to its clients in 2010. It was also the first Forex broker to launch nine trading servers on the MT platform.
#2 Lucrative Raffles and Contests
InstaForex develops a wide range of raffles and contests. The prize pool of these contests goes over one million dollars every year. The FX & CFD broker has already given away luxury sports cars to the lucky winners.
#3 Support for Sports
InstaForex supports sports teams as well as top players. The broker has had brand ambassadors such as Ilona Korstin, the basketball champion; Oleg Taktarov, the MMA champion; Janko Tipsarevic, the talented tennis player, and Victoria Azarenka, the Olympic tennis champion.
#4 Trading Tools and Training
InstaForex is home to a wide range of tools such as Forex analytical reviews, Forex calendar, Forex news, Forex TV, Trend line, Forex charts, Forex tick charts, and Quotes Archie. In addition, new as well as seasoned traders can get education and training in the form of video tutorials, glossaries, video courses, FAQs, and much more.
Client Support at InstaForex
InstaForex offers excellent client support, which includes the following features:
Callback Customer Service – To request the Forex broker to call them back, clients have to fill in a simple online form. They have to choose their country and type of connection from the dropdown box, enter their phone number and email, choose their preferred language from the dropdown box, and select a time and date for the callback from the dropdown boxes. They can also leave behind a few comments. The callback service is absolutely free of charge.
Support Area – The support area provides in-depth information on a variety of subjects such as registration, trading conditions, InstaForex Club, trading platforms, training and education, trading tools, trading strategies, and so on.
InstaForex Offices – InstaForex has 260 offices all over the world. One of its offices is in Accra, Ghana. The details are as follows:
Phone – +234 (802) 592-11-17
Skype – e-naira.com
ICQ – 594-710-566
Physical Address: Beside Mr. Biggs, Kwame Nkrumah Circle, Opposite Calvary Baptist Church, Accra Central
Email – [email protected]
Nigeria has 12 representative offices—one in Ijebu-Igbo, six in Lagos, four in Port Harcourt, and one in Owerri.
FAQ – Traders can always check out the Frequently asked Questions (FAQ) page for answers to commonly asked questions.
Live Chat – You can launch the live chat window to interact with a customer support agent.
Leave Feedback – You can leave behind your valuable comments, feedback, and suggestions by using this feature. To leave feedback, you have to enter your name, email address, subject, and message and then click on the Send button.
Email – Send an email to [email protected]
Contact InstaForex – In addition, there are several ways to contact InstaForex.
Toll-free telephone numbers in US, UK, Malaysia, Switzerland, Kazakhstan, Ukraine, Bulgaria, Georgia, and Indonesia
Skye to ifx.support or instaforex.support
Twitter handle @ifx_support
Telegram number +447418450528
Whatsapp number +447418450528
Call on +442037699172
InstaForex FAQ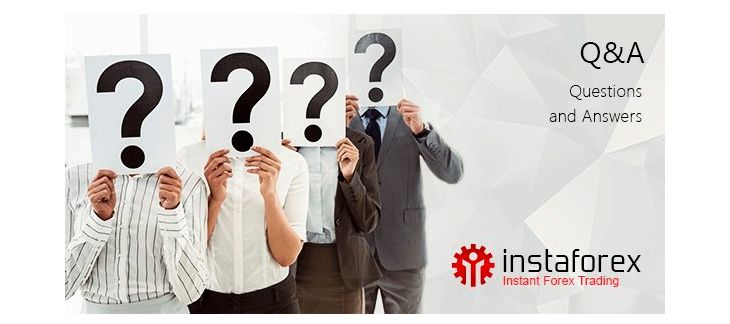 Q1: What is the minimum I can deposit on InstaForex?
A: You can deposit a minimum of US$1.
Q2: If I make the minimum deposit and start forex trading, how much will I earn?
A: It depends entirely on your knowledge, skills, and experience. Forex trading, though exciting, is fraught with risks and you should always implement proper risk management and money management techniques if you want to get anything out of forex trading.
Q3: I am not comfortable about submitting copies of my documents for account verification. Is account verification mandatory?
A: If you read the InstaForex Public Offer Agreement, you will come to know that you don't have to verify a live trading account. At the same time, you must note that the company offers certain features only to verified accounts.
Q4: If I open a live trader account and start trading, am I in danger of losing my balance and owing money to the company?
A: You can rest assured that you will never lose more than the money you deposited in your account. In case you lose more, the company will cover your loss up to zero. So you will never have a negative balance.
Q5: How many trading accounts can I open in my name?
A: You can open as many trading accounts as you wish. InstaForex does not impose any limits on the number of live and demo accounts you create in your name.
Our Take on InstaForex
InstaForex is not only highly reputed, licensed, and well-regulated, but also loaded with amazing features such as deposit bonuses, contests and raffles, and opportunities to win sports cars. InstaForex is not just about trading, but also about being part of a lively and dynamic community. We are sure you will be happy with your decision to be part of the InstaForex community.
InstaForex Review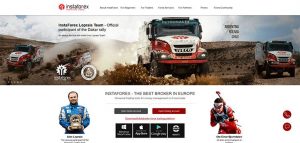 According to the figures displayed on the official website, the CFD & FX broker offers the following services: Over 300 trading instruments, including