Summary
JP Markets is an international online broker that started operating in 2016. Although the company has been around for just a few years, it has already built a relationship of trust with its clients. It began as a small company with a small office and a few workers, but today, it has offices in several countries across the globe.
Pros
• Negative Balance Protection
• Sophisticated Trading Platforms
• Safe and Secure
• Excellent Customer Support
Cons
• No promotions
• Users only trade cryptocurrencies but don't own them.
The founder of JPMarkets is a South African entrepreneur called Justin Paulsen. He has a major in Finance and Economics at the University of Cape Town. Paulsen got the opportunity to interact with a number of asset managers, hedge fund managers, forex traders, and portfolio managers while working for a leading forex broker in South Africa.
He then decided to start his own business and launched JP Forex Investments. He then passed the RE1 and RE5 exams for the qualifications required to start his own licensed company and that is how JP Markets was launched.
Reasons to Sign Up at JP Markets for South African Traders

Here are six stout reasons for South African investors and traders to sign up at JP Markets:
Negative Balance Protection – You will never end up owing JP Markets any money because it uses a risk management system and an automated transaction management system to prevent a client's account from turning negative.
Sophisticated Trading Platforms – JP Markets offers adequate and fast trading platforms. Since there are no lags and requotes, clients get exactly what they want.
Safe and Secure – The Forex broker maintains client funds separately from its own funds.
Free Deposits and Withdrawals – The broker does not charge clients for processing deposits and withdrawals.
Fast Payment Methods – The deposits are instantly credited to traders' accounts. And customers can instantly withdraw their profits from their accounts. They simply do not have to wait long for the transactions to go through.
Excellent Customer Support – The customer support agents are friendly, helpful, and prompt. You can get in touch with the FX broker through live chat, email, or phone.
Is JP Markets Reliable Forex Broker?

South African investors can definitely rely on JP Markets as it is the biggest forex broker in Africa and South Africa. During the last few months, the company has experienced tremendous growth and has expanded into Bangladesh, Pakistan, and Kenya.
The broker operates on a license issued by the Financial Services Board of South Africa. You can view a copy of the license on the JP Markets website.
You can contact JP Markets through the telephone number +27-010-590-1250, the email address [email protected], or the Facebook account www.facebook.com/jpmarketssa. JP Markets has offices in Johannesburg, Pretoria, Cape Town, Swaziland, and Polokwane.
Create an Account to Start Trading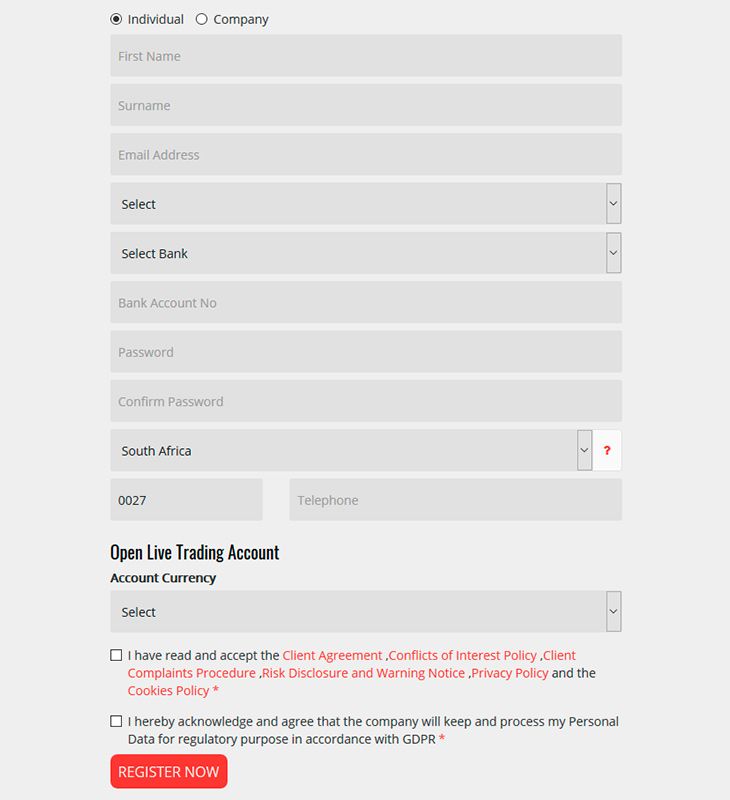 You can open a live trading account at JP Markets in three simple steps:
Complete the online registration form.
Verify their account by clicking on a link in the FX brokers' first email.
Load their trading accounts and start trading.
Traders can open accounts as individuals or companies.
We strongly recommend reading the client agreement form, client complaints procedure, privacy policy, cookies policy, risk disclosure and warning notice, and conflicts of interest policy carefully before registering an account.
Making Deposits and Withdrawals at JP Markets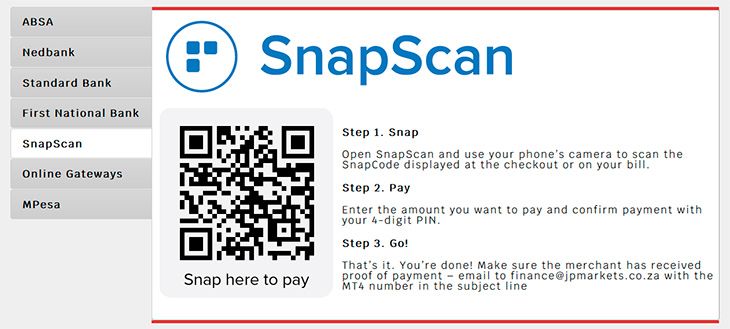 South African traders can choose a bank from the given list of banks to make a deposit. They can use their MT4 account number for reference. It may take up to 24 hours for the funds to be credited to traders' accounts. If they want the funds to be credited faster, they have to email payment proofs to [email protected]
ABSA
Standard Bank
Nedbank
SnapScan
First National Bank
MPesa
Online Gateways
There are three ways to make withdrawals at JP Markets:
Client Portal – You can quickly and easily request payout through their client portal.
Online Platform – You can withdraw through the platform using PayFast/Skrill or local bank transfers. JP Markets processes payout requests from Monday to Friday, between the hours of 9:00 a.m. and 5:00 p.m. You will receive a verification call from the broker for purposes of security.
Whatsapp – You can send your payout request to 079-604-4252 and include your MT4 account number and the amount you would like to withdraw. When it receives the request, the company verifies the details and credit payouts in 24 hours after the completion of the verification procedure.
However, withdrawal through Whatsapp is available only from 10:00 a.m. to 4:00 p.m. from Monday to Friday.
Types of Trading Platforms

Traders can choose from the following platforms at JP Markets:
MT4 for Windows
Customers can download MT4 for Windows, Android, and iOS and enjoy features such as no rejections, no requotes, and flexible leverage in the range of 1:1 to 500:1. This platform is suitable for traders of different skill levels.
The MT4 platform is popular for its user-friendly interface, technical analysis tools, automated trading capabilities, advanced charting features, and automated trading capabilities. JP Markets' MT4 platform supports multiple currencies such as PLN, SGD, GBP, EUR, and USD. Also, it is available in 30 languages.
MT4 for Mac
Traders can use Wine, a free software program that enables systems based on Unix to run applications developed for MS Windows. Unfortunately, Wine is not fully stable. So the application may not work as intended.
JP Markets recommends PlayOnMac, a free Wine-based application that can be used to easily install Windows applications on devices that run on the Mac operating system.
MT4 for Linux
Users of Linux computers can use Wine to install MT4 on their systems. However, they must understand that the application may not work properly.
Account Types
JP Markets offers different types of accounts to meet the requirements of different types of customers.
USD, GBP, and ZAR based accounts
Accounts that charge commissions
Accounts that charge spreads as costs
Each type of account gives clients direct access to the market. The orders flow directly to the market, ensuring that traders get the best market prices without any slippage, price manipulation, and lag.
There are micro as well as mini accounts, but the Forex broker doesn't discriminate between the two.
Unique Features of JP Markets

Here are some features that make JPMarkets unique and set it apart from the other Forex & CFD brokers in the industry:
JP Markets MasterCard
Registered traders at JP Markets can apply for the JP Markets MasterCard and become a VIP MasterCard client. They can use their card to make payments and withdraw money at ATMs. Also, they can use it to manage their profits easily.
To qualify for a JP Markets MasterCard, customers have to create a trading account and maintain a minimum balance of R5000. The holders of this card can use it only in South Africa, not in any other country. This card has been designed to enable JP Markets to pay profits to its clients; so traders cannot load any money in it. However, they can apply for a total of three JP Markets MasterCards.
To check their balance, clients have to log in to www.whatsonmycard.com. They should note that they cannot use their card to store any money and accrue interest on it. They have to use their card to either make purchases or withdraw their money at an ATM. They cannot withdraw the funds on their card at any bank.
Copy Trading
Customers can earn profits by copying the trades of professional traders at JP Markets. They will just be investing funds and a Copy Master will manage their funds for them. Any professional trader can become a Copy Master at JP Markets. They can do so by following these steps:
Visit JPMarkets.co.za/copy-trader and complete the online application form.
An account manager will contact them and give them some paper work.
Visit copytrader.jpmarkets.co.za and open an account.
When the company approves your fund manager or professional trader status, you can log into your account at copytrader.jpmarkets.co.za
Welcome Bonus
You get a welcome bonus of up to 100% just for opening a live trading account and making a deposit. You have to deposit at least R3,000 to qualify.
JP Markets offers 25% bonus on deposits in the range of R3000 to R30,000; 40% bonus on deposits in the range of R30,001 to R60,000; 60% bonus on deposits in the range of R60,001 to R100,000; 80% bonus on deposits in the range of R100,001 to R125,000; and 100% bonus on a deposit of $125,000.
JP Markets FAQ

Q1: How much should I deposit in my trading account?  
A: JP Markets doesn't set any deposit limits for its clients. So you can deposit any amount you wish. However, JP Markets recommends a minimum deposit of R3000, especially if you are a new trader in need to training.
Q2: Do clients have to pay for the trading education at JP Markets?
A: JP Markets offers excellent forex trading absolutely free of charge to holders of live trading accounts. The Forex broker offers classes at some of its offices in South Africa. Also, it offers video courses and online courses for traders who wish to learn at their own pace. Those interested can send an email to [email protected] for more information.
Q3: Can I use Bitcoin to load my trading account?
A: You can use Bitcoin, but only through Skrill. You can use Bitcoin to load your Skrill wallet and then transfer the money to your trading account.
Q4: How much money can I make at JP Markets?
A: It all depends on how well you trade. You should learn to make informed decisions using a wide range of trading tools. Also, you should learn how to manage your risks well.
Q5: Are my funds safe at JP Markets?
A: Yes, your money is 100% safe at JP Markets. This is because the online broker holds clients' money in separate accounts and never mixes it with its own funds. In addition, it has professional indemnity insurance to protect clients' funds.
Should You Open an Account at JP Markets?
If you reside in Africa, you certainly should. JP Markets is not only licensed and regulated in South Africa, but also supports ZAR and offers products designed for African traders. In addition, it has several offices across Africa and is founded by a well-known African entrepreneur.
JP Markets is not only a safe, secure, and well-regulated online trading platform, but also an excellent educator. If you have never traded before, you can easily learn how to trade at JPMarkets.
JP Markets Review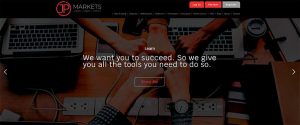 He then decided to start his own business and launched JP Forex Investments. He then passed the RE1 and RE5 exams for the qualifications required to start his own licensed company and that is how JP Markets was launched.